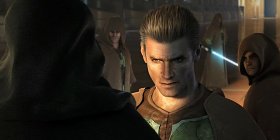 The story takes place in the Star Wars fictional universe shortly after the establishment of a tenuous peace between the re-emergent Sith Empire and the Galactic Republic, 300 years after the events of the Star Wars: Knights of the Old Republic games and 3,700 years before the events in the Star Wars films. The Jedi, held responsible for the Sith's success, are forced to relocate from Coruscant to Tython, where the Jedi order was founded. The Sith control Korriban, where they re-established a Sith Academy. The game begins as new conflicts arise. A collaborative effort between Bioware, Lucasarts, and Dark Horse Comics has resulted in a webcomic entitled "Star Wars: The Old Republic: Threat of Peace" whose purpose is to set up the story as the game opens.
About this Trailer - The Sacking of Coruscant
It was the crowning achievement of the Sith Empire's ambitious military strategy and the moment that changed the history of the Old Republic forever. You may have read about it before, but this first cinematic trailer captures this event with breathtaking action and beautiful detail.
Republic leaders have traveled to Alderaan to engage in promised peace talks with the Sith Empire. The most powerful Jedi have accompanied them to safeguard against an Imperial deception. The Empire's real motive, however, was simply to lure the Republic's strongest defenders away from Coruscant and set the stage for an audacious attack. Under the command of Lord Angral, the Sith fleet approaches the Republic's capital planet for the first time in centuries. In advance of the fleet, the strongest Sith Warriors have flown a stolen Republic ship into Coruscant's orbit. Their mission is critical – to destroy the planet's defense grid mainframe hidden in the heart of the Jedi Temple.
More Information at www.swtor.com. Image and Video Courtesy of Lucasfilm Entertainment Company Ltd.