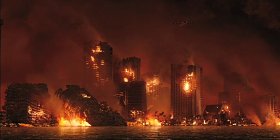 2012 is an upcoming American disaster film directed by Roland Emmerich. The film has an ensemble cast, including John Cusack, Amanda Peet, Danny Glover, Thandie Newton, Oliver Platt, Chiwetel Ejiofor, and Woody Harrelson. The film will be distributed by Columbia Pictures. Filming began in August 2008 in Vancouver.
Plot
A global cataclysm occurs which leads to the end to the world and has survivors struggling for their lives. The film is inspired by several hypotheses that state the ancient Mayans predicted a doomsday event will occur sometime around the 2012 winter solstice. The original basis for this comes from the end of the current cycle in the Mesoamerican Long Count calendar, on December 21, 2012.
Production
Director Roland Emmerich and composer-producer Harald Kloser co-wrote a spec script titled 2012, which was marketed to major studios in February 2008. Nearly all studios met with Emmerich and his representatives to hear the director's budget projection and story plans, a process that the director had previously gone through with the films Independence Day (1996) and The Day After Tomorrow (2004). The film was shopped around with a production budget of $200 million. Later that month, Sony Pictures Entertainment won the rights for the spec script, planning to distribute it under Columbia Pictures. The studio planned to make the film for less than the estimated budget.
Filming was originally scheduled to begin in Los Angeles, California, in July 2008, but instead commenced in Vancouver in August 2008. Due to the possible 2008 Screen Actors Guild strike, filmmakers set up a contingency plan for salvaging the film. Sony Pictures Imageworks was hired to create visual effects for 2012. Thomas Wander co-wrote the score with Harald Kloser.