---
•
Source:
3Dup.com - The Computer Graphics Portal
•
URL:
http://3dup.com/news/view.vfx?nid=232
•
Category:
Miscellaneous
---
Presented in 22 Film Festivals
3Dup.com - September 25, 2009 - 01:15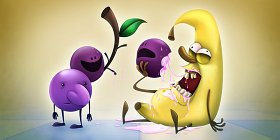 Fruit of the Womb is a short animated film produced by Minneapolis-based studio Make, LLC. Written and directed by Aaron Quist and Andrew Chesworth, the short is currently being distributed to film festivals all around the globe. A combination of 3D and 2D hand-painted techniques were utilized to generate the imagery, among other things. Fruitless Efforts is merely a modest window into humanity's evolving understanding of the meaning of life.
More Information at www.fruitlessefforts.com. Image and Video Courtesy of Make LLC.
---