---
•
Source:
3Dup.com - The Computer Graphics Portal
•
URL:
http://3dup.com/news/view.vfx?nid=256
•
Category:
Miscellaneous
---
Release Date: November 3, 2009
3Dup.com - October 22, 2009 - 23:29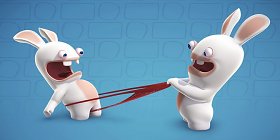 In this game, the action starts when a small group of the crazy bunnies hatch a plot to reach the moon, so they can all take a glorious nap together. Their plan includes collecting as much random junk as possible and then piling it up in a junkyard. They then plan on climbing the aforementioned pile of junk and hopping onto the moon from there.
One of the coolest features of Rabbids Go Home is the ability to take a picture/screen capture at any time during play and then share that picture with friends, so if something especially hilarious is happening, you will be able to savor the moment with your friends.
More Information at www.ubi.com. Image and Videos Courtesy of Ubisoft. Video Montage: 3Dup.com
---