Vincent are the Directing Duo John and Rheea. Video Montage in HD Published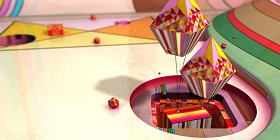 John Hill started in the film industry as a full time director and lead animator for useful companies designing VFX shorts, title secuences, script driven onset graphics and video wall animation for Thunderbirds, Terminator 3 Rise of the Machines or Tomb Raider: Cradle of Life. Rheea Aranha is a multiple award winning creative director who has designed and directed major projects for BBC Network, Discovery Channel, Cartoon Network, or BBC Drama.
How did you get involved in the making of this work for MTV?
We were approached directly by MTV World Design Studios.
What led to the creation of this visual style?
MTV's Art Director, Carlos Carrasco wanted the package to shout pop, but still be edgy and atmospheric. The tone was very much about being celebratory and at the same time visualising the idea that pop goes to battle and only the best reach the top. The idea that things rise to the top sparked us to conceive a high octane effervescent Toyland. The sequence starts with neon orbs floating up into a dark space through colourful apertures in the floor. More strobbing sprites and triangular blocks float up into the space to erect the sacrine Toyland. As the euphoria builds, the sprites eventually collect at the top of the world to form a floating installation that reads MTV Top Ten.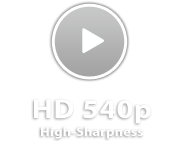 What kind of equipment was used for MTV's End Of Year Countdown?
Digital stills camera, found objects, 3D software, 2d software and a render farm.
Could you give us an idea of how you work, namely about your creative process?
We always work from a core idea and then expand. We embrace new technology but remain concept focused. We are very much multi-skilled and have a great deal of experience not only with 3D and 2D animation, but with live action direction and VFX supervision. This enables us to draw upon many mediums to execute the best solution for a brief. It is very easy to follow the mainstream with new plugins and effects which are short lived. We tend to manipulate and twist new technology to create something unique. We create work that will hopefully stand the test of time through simple great ideas and considered design.
What types of project excites you the most these days?
Mixtures of new media is always exciting. We also like sound driven pieces as well.
What valuable lessons have you learned in your professional career?
Keep problem solving simple. Start with a simple idea and execute it well.
More Information at www.wearevincent.com. Image and Video Courtesy of John Hill and Rheea Aranha. Video Encoding: 3Dup.com