Modern 3D Content Creation Software Adds Intuitive Modeling and Animation Features Enhanced Photoshop File Support Rendering Advancements and New Modo Sdk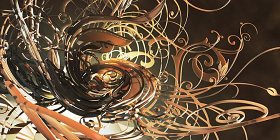 Luxology LLC announced the immediate availability of modo™ 302, the newest version of its award-winning, artist-friendly 3D content creation software. Free for registered modo 301 customers, modo 302 adds new natural lighting capabilities, additional layered Photoshop file support, an animation Track View, new modeling tools and numerous other enhancements. Luxology is also making available the first version of the modo File I/O software development kit (SDK), which allows developers to import or export data directly from modo. modo 302 is available for both Mac OSX and Windows.
"This is the most comprehensive free update in modo's history," said Brad Peebler, president and co-founder of Luxology. "modo 302's workflow is smoother than ever with a host of carefully crafted user interface refinements, major new animation controls and a battery of new features."
"modo 302 is packed with enhancements that make it an even greater asset to our game production pipeline," said David Vasquez of Mainland Gaming LLC. "We are particularly impressed with modo's new File I/O SDK, which streamlines our workflow by allowing us to export Collada content from modo directly into Terathon Software's C4 Engine."
modo 302 combines a powerful, real-time subdivision surface modeling engine with an artist-focused set of tools that harness sculpting, painting and rendering technologies to expedite the creation of world-class 3D content. modo can also animate virtually anything within a scene, as well as import motion and deformation data from other software applications. This unique combination of a modern workflow and a fused toolset delivers increased productivity and performance for 3D artists working in a variety of disciplines, including game development, engineering and architectural design visualization, and CGI for print.
modo 302 includes a large number of new and improved features. Some of modo 302's key updates are:
Modeling workflow
: New Flex tool provides an efficient way to select and pose meshes, and the sculpting tools are made more fluid with a new soft brush that smoothly interpolates strokes.
Enhanced rendering
: New Physical Sun and Physical Sky simulation provide realistic sky color and light intensity based on location, date and time of day. For added realism, modo now renders blooms for intensely lit or glowing areas.
Photoshop file support
: Layered PSD files can now be used to automatically create texture layers in modo's Shader Tree.
Animation improvements
: New Track View editor delivers a dramatic improvement in the animation capability of modo and applies an intuitive modo user interface to the task of creating and fine-tuning complex animation sequences.
File I/O SDK
: New API for creating plug-ins in C or C++ that import or export modo scene and image data to and from other formats.
Pricing and Availability
modo 302 is available immediately with dual licenses that support both Mac OSX and Windows. The software sells for a suggested retail price of USD $895, and registered modo 301 customers receive modo 302 free of charge. modo is sold and supported by a network of authorized Luxology resellers around the globe.
Luxology also offers a wide array of modo training videos and other educational materials designed to enhance the modo learning process for both novice and experienced 3D artists. A new modo 302 "Spotlight" training series introduces projects that explain how to use several key new modo 302 features. An evaluation version of modo 302 is also available now.
More information at: www.modo3d.com. Image and Video Courtesy of Luxology LLC and Alvin CG.