---
•
Source:
3Dup.com - The Computer Graphics Portal
•
URL:
http://3dup.com/news/view.vfx?nid=391
•
Category:
Miscellaneous
---
The Raven is a short film by Peruvian filmmaker Ricardo de Montreuil
3Dup.com - April 27, 2010 - 11:14
It was produced with a total budget of $5000 and is based on a treatment for a potential film trilogy. The film was shot in downtown Los Angeles over a weekend. The RED camera was used with Ultra Prime Lenses. A relatively small crew handled the grueling two-day shoot. Victor "Showtime" Lopez (as Chris Black aka The Raven) performed all of his own stunts.
The film's post (editing, VFX, scoring, sound design, color correction) took a total of three months to complete. Ricardo de Montreuil made all the compositing using After Effects in his home IMac.
Synopsis
Chris Black possesses a power that could lead to the destruction of the current regime, and they will stop at nothing to destroy him. The chase is on as Chris runs for his life in this sci-fi thriller set in an alternate and futuristic Los Angeles.div.overlay { width:1040px; height:512px; } #imgplay { margin:50px 0px 0px 190px; } #player { background:no-repeat url('/videos/news/2010/april/theraven.jpg') top center; } #splash, #player, #player embed, #player object { width:560px; height:264px; }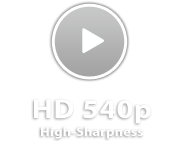 TECHNICAL
RED Camera
Editing: Final Cut Pro
VFX: After Effects, Lightwave, Maya
Sound: Protools
Color Correction: DA VINCI System

More Information at www.theravenfilm.com. Image and Video Courtesy of RavenFilm. Video Encoding: 3Dup.com
---