Front Page
Search
Popular
Off-Site
Free Content
My Visit
| | | | |
| --- | --- | --- | --- |
| Software | | | |
e-on software Ships Vue 7.5
Adds V-Ray Compatibility, Planetary Rendering, Camera Mapping, Cloud Alpha
| | |
| --- | --- |
| | 3Dup.com - May 28, 2009 - 20:16 |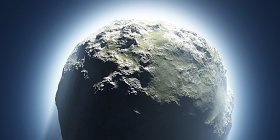 e-on software announced the immediate availability of Vue 7.5 xStream and Vue 7.5 Infinite, the company's latest release of its professional solutions for the creation, animation and rendering of natural 3D environments. E-on software also released a Vue 7.4 update for all Vue 7 products (including Esprit, Pro Studio and Complete, its products for artists). This update adds new functionality to Vue 7 and is available at no cost for all Vue 7 users (the complete list of improvements and new features is available at
www.e-onsoftware.com/update
).
New features of Vue 7.5
Vue xStream and Vue Infinite are the company's professional solutions for the creation, animation and rendering of natural 3D environments. While Vue Infinite is a standalone application, Vue xStream operates seamlessly inside of 3ds Max, Maya, LightWave, Cinema4D and Softimage|XSI. Specifically designed for graphics professionals, these products combine a multitude of cutting edge features that easily integrate into existing production pipelines.
New Features
Color and Alpha masks of single clouds and cloud layers in multi-pass renderer.
Camera Mapping to dramatically cut animation render times.
Spherical and planetary procedural terrains with infinite level of detail.
Spherical cloudscapes (procedural, or based on real-world/modified cloud maps).
Material Painting and effect-driven material mapping in the Terrain Editor.
Enhanced Multi-Processor usage for procedural terrains, Dynamic EcoSystems and panoramic rendering.
EcoSystem populations that can evolve over time.
Support of the V-Ray renderer for 3ds Max (xStream).
Support of EcoSystem painting in XSI (xStream).
Cloud layers that cast and receive shadows from other cloud layers and objects in the scene.
Improved OpenGL sky and cloud preview, colored EcoSystem instance previewing.
Other productivity and feature enhancements.
More Information at:
www.e-onsoftware.com
. Image Courtesy of e-on software inc.

[

Views

: 1,754 | Refers: 0 | Prints: 187 | Rate: 0.00 / 0 Votes | Posts: 0]
Allegorithmic Substance Air Now Available
May 26, 2009 - 20:08

With more games moving online and digital distribution becoming an increasingly important business strategy for publishers, improving visual quality and allowing ...
e-on software Ships Ozone 4.0
May 25, 2009 - 19:35

e-on software announced the immediate availability of Ozone 4.0, its suite of atmospheric plug-ins for 3ds Max, Cinema4D, LightWave, Maya and Softimage|XSI. E-on software ...
Toy Story 3 Trailer
May 31, 2009 - 12:02

Toy Story 3 is an upcoming computer-animated 3-D film being produced by Pixar Animation Studios, slated for release on June 18, 2010. It is a sequel to the films Toy Story ...
Interesting Fallout 3 Video
June 02, 2009 - 21:15

The game was released in North America on October 28, 2008, in Europe and Australia on October 30, 2008, and in the United Kingdom and Ireland on October 31, 2008. The video ...