Front Page
Search
Popular
Off-Site
Free Content
My Visit
| | | | |
| --- | --- | --- | --- |
| Hardware | | | |
Two New Quad-Core Xeon from Intel
Spanning 2.0 Ghz at Only 50 Watts to 3.0 Ghz Customers can Now Achieve Higher Performance with Greater Power Savings
| | |
| --- | --- |
| | 3Dup.com - August 15, 2007 - 12:46 |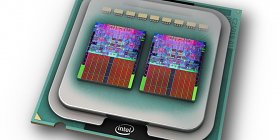 The new processors boast performance and energy efficiency, along with a pricing strategy to move the enterprise industry to multi-core systems. The new Intel® Xeon® Processors X5365 and L5335 also contain new virtualization capabilities.

Designed for companies running performance-critical server and workstation applications, the Intel Xeon Processor X5365 is the industry's first 3.0 GHz quad-core processor to fit inside a standard 120 watt power envelope. The X5365 also features front-side bus (FSB) speed of 1333MHz.

With the energy-sipping Intel Xeon Processor L5335, Intel is delivering higher performance quad-core processors designed for servers that require optimal space and power utilization. The processor includes a 2.0 GHz clock speed and 1333MHz FSB within a 50 watt power envelope, or just 12.5 watts per processing core.

"Intel innovation continues to enable us to be the multi-core trailblazer providing a choice of quad-core products for those craving the highest performance, lowest power and all points in between," said Kirk Skaugen, vice president of Intel's Digital Enterprise Group, and general manager of the Server Platforms Group. "Moore's Law, Intel's silicon design and process technology and the Core microarchitecture are allowing us to deliver even greater levels of end-user value by essentially enabling price parity between dual and quad-core Intel Xeon processors at a given clock frequency, further accelerating quad-core market adoption."

The processors are ideal for conducting simultaneous design and analysis transactions, improving rendering performance and managing faster analytics for industries such as financial services. Both processors are easily "drop-in" compatible with select existing Intel server platforms.
Page: [ 2 ]
[

Views

: 2,665 | Refers: 0 | Prints: 330 | Rate: 0.00 / 0 Votes | Posts: 0]
Maxon Cinebench R10 Released
August 15, 2007 - 09:00

The completely reworked Maxon Cinebench R10 is now available for all users, manufacturers and hardware testers who want to test the performance of graphics cards and CPUs for ...
Luxology Unveils Luxology TV
August 10, 2007 - 19:05

Luxology® LLC, announced Luxology TV, an innovative new online hub that allows the 3D community to exchange and view high resolution video clips on Luxology's ...
AMD Unveils New ATI FireGL Series
August 22, 2007 - 12:56

AMD announced five new high-performance ATI FireGL™ workstation graphics accelerators for CAD, DCC and medical imaging professionals. The ATI FireGL V8650, FireGL ...