Front Page
Search
Popular
Off-Site
Free Content
My Visit
| | | | |
| --- | --- | --- | --- |
| Miscellaneous | | | |
CG Movie: 9. The Second Trailer
| | |
| --- | --- |
| | 3Dup.com - June 24, 2009 - 20:11 |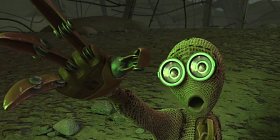 9 is an upcoming animated action/fantasy film directed by Shane Acker and produced by Tim Burton and Timur Bekmambetov, director of Wanted. It is based on Acker's Academy Award-nominated short film of the same name. Although CGI, the movie will have a stylized look resembling stop motion which Tim Burton called "hauntingly beautiful". Casting for this film was done by Mindy Marin, production design by Robert St. Pierre and Fred Warter, and art direction by Christophe Vacher. The film has been rated PG-13 by the MPAA for violence and scary images.


9 takes place in a world parallel to our own, in which the very legacy of humanity is threatened by machines. The machines that a scientist has created rebelled and began to manufacture an army to wipe out humanity. So a scientist creates a group of sapient rag dolls. These rag dolls, or "stitch punks" as Shane Acker calls them, live a post-apocalyptic existence and one day they find 9, one of their own.
Page: [ 2 ]
[

Views

: 1,636 | Refers: 0 | Prints: 162 | Rate: 0.00 / 0 Votes | Posts: 0]
KO to WII and PS3? Project Natal by Microsoft
June 21, 2009 - 14:02

Project Natal is the code name for a "controller-free gaming and entertainment experience" by Microsoft for the Xbox 360 video game platform. Based on an add-on peripheral ...