Front Page
Search
Popular
Off-Site
Free Content
My Visit
| | | | |
| --- | --- | --- | --- |
| Games | | | |
The game is set prior to the events of Halo 3, concurrent to the latter part of Halo 2 in the fictional city of New Mombasa
| | |
| --- | --- |
| | 3Dup.com - September 13, 2009 - 13:14 |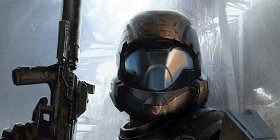 Halo 3: ODST is a shooter video game with gameplay taking place from a first-person perspective. Although the gameplay of ODST bears a strong resemblance to previous Halo titles, the player does not assume the role of the enhanced human supersoldier Master Chief. Instead, the player controls a lone UNSC soldier, known as "the Rookie". Since the player does not possess Master Chief's advanced armor and reflexes, he or she cannot jump as high or move as fast. Instead of the Chief's damage-absorbing energy shield, the game uses a stamina mechanic. After taking damage, the screen flashes red; the player regains stamina by resting. If the player recieves more damage past their stamina threshold, their health takes a permanent hit. Players restore permanent health via the use of medpacks scattered around the game environments.
More Information at
www.bungie.net
. Image and Video Courtesy of Bungie LLC and Microsoft Corp.
[

Views

: 2,384 | Refers: 0 | Prints: 169 | Rate: 0.00 / 0 Votes | Posts: 0]
Autodesk Published the Siggraph 2009 Show Reel
September 11, 2009 - 15:15

Autodesk is corporation focuses on 2D and 3D design software for use in architecture, engineering and building construction, manufacturing, and media and entertainment. ...