Front Page
Search
Popular
Off-Site
Free Content
My Visit
| | | | |
| --- | --- | --- | --- |
| Miscellaneous | | | |
Funny CG Short: Fruitless Efforts
Presented in 22 Film Festivals
| | |
| --- | --- |
| | 3Dup.com - September 25, 2009 - 01:15 |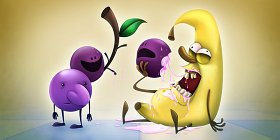 Fruit of the Womb is a short animated film produced by Minneapolis-based studio Make, LLC. Written and directed by Aaron Quist and Andrew Chesworth, the short is currently being distributed to film festivals all around the globe. A combination of 3D and 2D hand-painted techniques were utilized to generate the imagery, among other things. Fruitless Efforts is merely a modest window into humanity's evolving understanding of the meaning of life.
More Information at
www.fruitlessefforts.com
. Image and Video Courtesy of Make LLC.
[

Views

: 3,671 | Refers: 0 | Prints: 205 | Rate: 0.00 / 0 Votes | Posts: 0]
Maxwell Render 2 is Out
September 24, 2009 - 15:12

It is a rendering engine based on the mathematical equations governing light transport, meaning that all elements, such as emitters, materials and cameras, are derived from ...
Intel Showcases 22nm Wafer
September 24, 2009 - 13:02

Intel President and CEO Paul Otellini displayed a silicon wafer containing the world's first working chips built on 22nm process technology. The 22nm test circuits include ...
The Wolfman. Better than Ever
September 25, 2009 - 02:27

Inspired by the classic Universal film that launched a legacy of horror, The Wolfman brings the myth of a cursed man back to its iconic origins. Oscar winner Benicio Del Toro ...