Front Page
Search
Popular
Off-Site
Free Content
My Visit
| | | | |
| --- | --- | --- | --- |
| Miscellaneous | | | |
The Wolfman. Better than Ever
Good Photography. Good Cast. Good Visual Effects. Good Script
| | |
| --- | --- |
| | 3Dup.com - September 25, 2009 - 02:27 |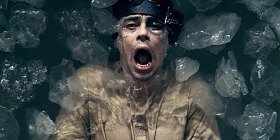 Inspired by the classic Universal film that launched a legacy of horror, The Wolfman brings the myth of a cursed man back to its iconic origins. Oscar winner Benicio Del Toro stars as Lawrence Talbot, a haunted nobleman lured back to his family estate after his brother vanishes. Reunited with his estranged father (Oscar winner Anthony Hopkins), Talbot sets out to find his brother and discovers a horrifying destiny for himself.

Lawrence Talbot's childhood ended the night his mother died. After he left the sleepy Victorian hamlet of Blackmoor, he spent decades recovering and trying to forget. But when his brother'ss fiancée, Gwen Conliffe (Emily Blunt), tracks him down to help find her missing love, Talbot returns home to join the search.


He learns that something with brute strength and insatiable bloodlust has been killing the villagers, and that a suspicious Scotland Yard inspector named Aberline (Hugo Weaving) has come to investigate. As he pieces together the gory puzzle, he hears of an ancient curse that turns the afflicted into werewolves when the moon is full.
Page: [ 2 ]
[

Views

: 1,960 | Refers: 0 | Prints: 170 | Rate: 0.00 / 0 Votes | Posts: 0]
Funny CG Short: Fruitless Efforts
September 25, 2009 - 01:15

Fruit of the Womb is a short animated film produced by Minneapolis-based studio Make, LLC. Written and directed by Aaron Quist and Andrew Chesworth, the short is currently ...
Maxwell Render 2 is Out
September 24, 2009 - 15:12

It is a rendering engine based on the mathematical equations governing light transport, meaning that all elements, such as emitters, materials and cameras, are derived from ...
Ninja Toy 2. A Motion Capture Lesson
September 25, 2009 - 17:46

Motus Digital's handpicked team has provided post-production visual effects services to both the Entertainment and Gaming industries as far back as 1977. Motion pictures, ...