Front Page
Search
Popular
Off-Site
Free Content
My Visit
| | | | |
| --- | --- | --- | --- |
| Games | | | |
Avatar Game: Developers' Diary
Videogame based on Avatar, the new James Cameron's film prepared for this holidays 2009
| | |
| --- | --- |
| | 3Dup.com - October 27, 2009 - 23:18 |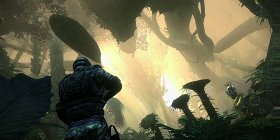 Avatar is the story of an ex-Marine who finds himself thrust into hostilities on an alien planet filled with exotic life forms. As an Avatar, a human mind in an alien body, he finds himself torn between two worlds, in a desperate fight for his own survival and that of the indigenous people. More than ten years in the making, Avatar marks Cameron's return to feature directing since helming 1997's Titanic, the highest grossing film of all time and winner of eleven Oscars including Best Picture. The "Avatar" cast includes Sam Worthington, Zoe Saldana, and Sigourney Weaver. Academy Award-winning visual effects house, WETA Digital, renowned for its work in "The Lord of the Rings" Trilogy and "King Kong," will incorporate new intuitive CGI technologies to transform the environments and characters into photorealistic 3D imagery that will transport the audience into the alien world rich with imaginative vistas, creatures and characters.
More Information at
www.ubi.com
. Image and Video Courtesy of Ubisoft Corp.

[

Views

: 1,888 | Refers: 0 | Prints: 152 | Rate: 0.00 / 0 Votes | Posts: 0]
Rabbids Go Home. More Videos
October 27, 2009 - 12:57

The action in this game takes place in a world that concentrates everything one might find in a typical US city and surroundings. Some other environments include a beach, a ...
Catwalk. Black Cat Crossing
October 27, 2009 - 11:21

This CG creation is a humorous animated short film that takes the viewer into a lovely and detailed designed comic city. There he is going to witness a row of odd incidents ...
Assassin's Creed: Lineage. Part I
October 30, 2009 - 09:48

The Lineage films are a mixture of live-action and computer generated imagery. They are intended to focus upon Ezio's father, Giovanni Auditore da Firenze. The game ...