Front Page
Search
Popular
Off-Site
Free Content
My Visit
| | | | |
| --- | --- | --- | --- |
| Games | | | |
Halo 3 Launched. It Racks Up Record Sales
It was the Biggest Entertainment Launch in History
| | |
| --- | --- |
| | 3Dup.com - September 30, 2007 - 11:11 |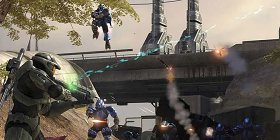 Microsoft announced that the Xbox 360 exclusive game "Halo 3" has officially become the biggest entertainment launch in history, garnering an estimated $170 million in sales in the United States alone in the first 24 hours. The Xbox 360 title beat previous records set by blockbuster theatrical releases like "Spider-man 3" and novels such as "Harry Potter and the Deathly Hallows."

"Halo 3" is the conclusion to the epic trilogy and picks up where "Halo 2" left off, answering questions around the fates of the beloved protagonist Master Chief and his artificial intelligence sidekick Cortana as they struggle to save humankind from destruction at the hands of the alien coalition known as the Covenant. In addition to the rich storyline, "Halo 3" continues the franchise's grand tradition of delivering innovative online multiplayer experiences via Xbox LIVE, the world's largest social network on TV.

"Halo 3 has become a pop-culture phenomenon," said Shane Kim, corporate vice president of Microsoft Game Studios. "Not only is "Halo 3" setting sales records, it's also redefining entertainment.

Within the first 20 hours alone, we've seen more than a million Xbox LIVE members come online to play Halo 3 – that makes September 25 the most active Xbox LIVE gaming day in history."


Retailers have also expressed their excitement about the launch of "Halo 3."
Page: [ 2 ] [ 3 ]
[

Views

: 2,386 | Refers: 0 | Prints: 238 | Rate: 0.00 / 0 Votes | Posts: 0]
Corel Introduces Painter Essentials 4
September 27, 2007 - 19:48

Corel unveiled Corel® Painter™ Essentials 4, the latest release from the company's digital media portfolio. Based on Corel Painter, the world's most ...
Luxology Uses Subdivision Surface Tech from Pixar
October 09, 2007 - 00:03

Luxology® announced that Pixar Animation Studios and Luxology have finalized an agreement under which Pixar has licensed its Subdivision Surface Patents to Luxology. The ...