Front Page
Search
Popular
Off-Site
Free Content
My Visit
| | | | |
| --- | --- | --- | --- |
| Software | | | |
Nvidia Gelato Pro Gpu-Powered Rendering Software Now Freely Available
Final Version Being Offered to the 3D Design Animation and Postproduction Communities
| | |
| --- | --- |
| | 3Dup.com - June 12, 2008 - 14:33 |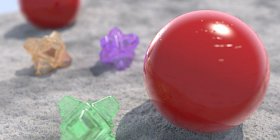 NVIDIA Corporation announced NVIDIA Gelato Pro 2.2 rendering software, the Company's advanced GPU-accelerated rendering software for professionals, is available as a no-cost download. Well suited for rendering of 3D digital content and design, Gelato Pro software now replaces the basic version of Gelato software, which was previously available directly from NVIDIA.

"NVIDIA Gelato Pro 2.2 software is extremely powerful GPU-accelerated rendering software and we are excited to support the creative community by making it freely available," said Dominick Spina, senior product manager, Digital Film Group, NVIDIA. "Now all artists and designers with NVIDIA Quadro graphics cards can enhance their production pipelines with Gelato Pro -without a licensing fee."

Gelato Pro 2.2 will be the final version of NVIDIA Gelato rendering software. Moving forward, the NVIDIA Gelato and mental images rendering teams will focus on the development of mental ray software, reinforcing NVIDIA's investment in, and commitment to, accelerated rendering.

Gelato software is a GPU-accelerated, final-frame renderer for the creation of high-quality computer-generated images using NVIDIA Quadro graphics cards. Originally developed to render film and broadcast visual effects and animation, Gelato software can be used with 3D software applications that require advanced rendering such as game development, CAD, industrial design, and architecture.
Page: [ 2 ]
[

Views

: 5,294 | Refers: 0 | Prints: 302 | Rate: 0.00 / 0 Votes | Posts: 0]
New CG Movie Igor
May 18, 2008 - 20:03

What do you do when you are born with a hunch in your back? In the land of Malaria, you become an Igor. Directed by award-winning animation verteran Tony Leondis (Prince of ...
The Gnomon Workshop Releases Two New DVDs
May 18, 2008 - 18:35

The Gnomon Workshop released two new titles Introduction to 3ds Max: Tools and Workflow with Cetin Tuker and Intuitive Animation with Robert Kuczera: High-Velocity ...
Luxology Launches Education Provider Program
July 10, 2008 - 00:52

Luxology LLC, developers of modern, artist-focused 3D software, today announced its new Education Provider Program, which offers leading colleges, universities and 3D ...