---
•
Source:
3Dup.com - The Computer Graphics Portal
•
URL:
http://3dup.com/news/view.vfx?nid=146
•
Category:
Miscellaneous
---
To Be Released on August 14, 2009
3Dup.com - May 05, 2009 - 23:42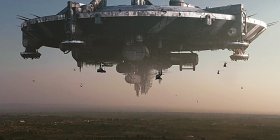 Not a lot is known about District 9's plot, save that it is about aliens landing in Africa and becoming slaves forced to work for a giant evil corporation. According to the official brief about this movie: "District 9 depicts a fictional world where extraterrestrials have become refugees in South Africa". We found the following information as well: An extraterrestrial race forced to live in slum-like conditions on Earth suddenly find a kindred spirit in a government agent that is exposed to their biotechnology. This great secrecy in the plot is part of the advertsing campaign created to generate interest about this movie.
Starring
: Robert Hobbs, Jason Cope, Sharlto Copley
Directed by
: Neill Blomkamp
Producer
: Peter Jackson
More Information at: www.d-9.com. Image and Video Courtesy of Sony Pictures Digital Inc.
---