---
•
Source:
3Dup.com - The Computer Graphics Portal
•
URL:
http://3dup.com/news/view.vfx?nid=165
•
Category:
Software
---
Spotlight and Lightbox Tools Explained in Advance
3Dup.com - June 15, 2009 - 21:38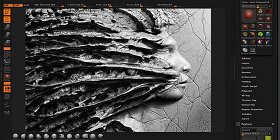 ZBrush gives you all of the tools needed to quickly sketch out a 2D or 3D concept, then take that idea all the way to completion. You can create realistic renders directly in ZBrush with lighting and atmospheric effects, or with the many powerful export options you can easily prepare you model for 3D printing or use with in any other digital application.
Designed around a principle of circularity, the menus in ZBrush work together in a non-linear and mode-free method. This facilitates the interaction of 3D models, 2D images and 2.5D Pixels in new and unique ways.
More Information at http://www.pixologic.com. Image and Video Courtesy of Pixologic Inc.
---