One Affordable Product Offers Advanced Simulation, Compositing and Network Rendering Capabilities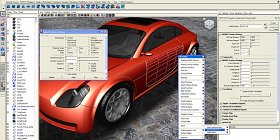 Autodesk announced Autodesk Maya 2010 software, which unifies the Autodesk Maya Complete 2009 and Autodesk Maya Unlimited 2009 feature sets with matchmoving, compositing and rendering capabilities into a single affordable offering. Maya 2010 makes it easier for artists, designers and 3D enthusiasts to create compelling entertainment experiences, stylistic designs and evocative digital imagery from photo-real visual effects to believable characters. Maya 2010 is available on Windows, Linux and Mac OS operating systems.
"Artists need more creative capability than ever to attract viewers' attention and engage their emotions in today's fast-moving, prolific world of digital entertainment and design," explained Marc Petit, senior vice president, Autodesk Media & Entertainment. "Maya 2010 is designed to provide that creative capability, making it easier and more affordable for artists to build a cohesive computer graphics (CG) pipeline (integrating 2D and 3D, simulation and animation, rendering and compositing) so that they can create innovative entertainment more efficiently."
Insomniac uses Maya in Resistance 2 Game
Paal Anand, digital post supervisor for Bling Imaging and Maya 2010 beta tester, said, "Producers have become savvier with respect to computer graphics. They expect more work with additional complexity in less time than ever before. Maya 2010 gives us the total package to efficiently handle any challenge, whether it's heavy in tracking, modeling, animating, rendering or compositing. Maya 2010 simplifies the workflow by integrating all the tools you need into a ready-to-go pipeline to get the job done from start to finish." Hollywood-based Bling Imaging creates photo-realistic visual effects, motion graphics and animation for broadcast and motion pictures.
Maya has been used on every Academy Awardwinning movie for Best Visual Effects since 2001 and by all of the top 20 games publishers. In the past decade, Maya has become a creative tool of choice among many of the world's top production companies and has been used to help artists around the world produce unique and innovative entertainment experiences (from independent productions like Chris Landreth's "The Spine" to trend-setting visual effects blockbusters like "The Curious Case of Benjamin Button)."
Autodesk Maya 2010 Features
Maya 2010 has all the features of Maya Unlimited 2009 and Maya Complete 2009, including the advanced simulation tools: the Maya Nucleus Unified Simulation Framework, Maya nCloth, Maya nParticles, Maya Fluid Effects, Maya Hair, Maya Fur; in addition to its comprehensive modeling, texturing and animation tools, brush-based 3D technology, an integrated stereoscopic workflow, Toon Shading, rendering, an extensive Maya application programming interface/software development kit and Python and MEL scripting capabilities.
New features in Maya 2010 are Maya Composite, a powerful high-dynamic composting system based on Autodesk Toxik software, which is no longer available as a standalone solution; Autodesk MatchMover advanced 3D tracking and matchmoving system; five mental ray Batch render nodes* and the Autodesk Backburner network render queue manager.
"I use Maya Complete in my day-to-day work and have always had my eye on Maya Unlimited," said Ivan Turgeon, Maya visual effects artist and Maya 2010 beta tester, Prairie Fire VE. "Now that Maya Complete Autodesk Subscription customers will receive Maya 2010, which contains the entire Maya Unlimited 2009 feature set plus mental ray Batch rendering capability and Maya Composite, smaller shops like mine will be much more viable."
More Information at www.autodesk.com/maya. Image and Video Courtesy of Autodesk Inc.