Lowry Digital Relies on Nvidia GPUs to Recover Historic Video by Upgrading 1960s Television Footage to 21st Century High-Definition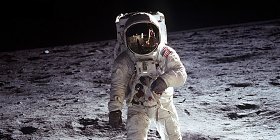 When NASA's original Apollo 11 moon landing video was accidentally destroyed, it seemed the world had lost a visual record of one of man's greatest achievements. Fortunately, unique digital video restoration technology from Lowry Digital, powered by Nvidia® Tesla™ GPUs (graphics processing units) with CUDA™ technology, has enhanced television coverage of the original video so that we can now watch Neil Armstrong take a giant leap for mankind in high-definition (HD).
"Nvidia CUDA has enabled Lowry Digital to develop and use, in a practical and efficient manner, far more complex image processing algorithms than would otherwise be possible, providing great value for our customers." said John D Lowry, founder, Lowry Digital. "This has significantly increased both our image quality and our operational efficiency."
Nvidia Tesla GPUs are high performance parallel processors and work together with CPUs in a co-processing model. Computationally intensive applications like digital video restoration use the massive computational capabilities of the GPU while the sequential part of the application's code runs on the CPU, speeding up the overall process and decreasing time to completion.
Lowry Digital worked with several video sources to produce the footage, working from low-quality images such as television broadcast video and 8mm film shot on a handheld camera that was pointed at the monitor at NASA's Honeysuckle Creek tracking station in Australia. The newly released Apollo 11 video was enhanced by removing artifacts like noise, flickering, darkened image corners, blurs and smears, enabling it to regain proper contrast and improved resolution.
Enhancing each frame of the video on a CPU-only system would have taken Lowry Digital between 20 to 45 minutes to complete. Tesla GPUs deliver a 100-times boost in performance, cutting the restoration time for a single frame to seconds. The final Apollo 11 video will feature two and half hours of HD video.
"Lowry Digital's restoration process has brought out details in the Apollo 11 videos that were never visible before," said Andy Keane, general manager of the Tesla business unit at Nvidia. "You can now see the faces of Neil Armstrong and Buzz Aldrin behind their visors, the stars on the U.S. flag when it is being raised and amazing details of the moon surface. We're proud that Nvidia has made such an important contribution to this historic project."
The Lowry Process for digital restoration incorporates powerful image processing algorithms that have been fine-tuned during film restoration of more than 400 feature films, including classics such as Casablanca and Doctor Zhivago. The company also provides proprietary image processing services for new productions as utilized on The Curious Case of Benjamin Button. Lowry Digital is continuing the restoration project of NASA's video archive of the moon landings and is scheduled to complete the work in September.
More Information at www.nvidia.com/cuda. Image and Videos Courtesy of NASA. Video Post-Production: 3Dup.com