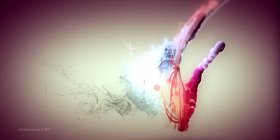 Esteban Diácono is an Argentinian Motion Graphics Designer based on Buenos Aires. He has been working for over 12 years in the Design, Motion Graphics and Postproduction Industry.
"Let Yourself Feel" is a little animation project inspired by the wonderful music of Olafur Arnalds. The song is called Ljósið. It is the official video for this song now.
According to Esteban Diácono the video was made as follow:
"I first imported the audio and set up 2 sounkeys layers, one for the piano and one for the strings. Then I worked the particles and the particle subsystem and linked things like the emission, the turbulence, the velocity, the spin amplitude and the strenght of the fields to the soundkeys outputs. Then I set up the colors with 2 different palettes, and well, after that there was a lot of trial and error in order to achieve what I was looking for. There is a lot of randomness involved in here, so there was also a lot of luck, of course."
The quotes are from many sources, including Brian Eno, Stefan Segmeister, Albert Einstein, Nietzsche and a few more randomly.
More Information at www.estebandiacono.tv. Image and Video Courtesy of Esteban Diácono