It uses Professional Graphics Processing Units (GPUs) and an innovative Real-Time Rendering Engine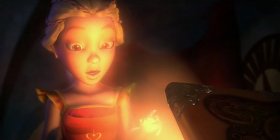 StudioGPU released MachStudio Pro 1.2. This real-time 3D workflow and rendering package can accelerate pro GPUs to deliver real-time and near real-time workflow performance on desktop workstations. MachStudio Pro 1.2 is delivered with the new AMD ATI FirePro V8750 pro 3D workstation graphics accelerator, included with the program, or the equivalent NVIDIA accelerator can be attached and used, depending on your studio's needs.
The MachStudio Pro workflow shows lighting, camera views and multi-point perspectives for a real-time view of frames as they will appear in the final rendered format. Users can easily manage and interact with complex lighting, caustics, cameras, shaders, materials, ambient occlusion, and color grading for real-time shot finaling and compositing.
New features of MachStudio Pro 1.2, include Displacement Mapping using hardware tessellation, full stereoscopic Camera Support, a cartoon Shader and custom Configurable Anti-Aliasing.
This system also delivers unlimited Independent Render Passes and Render Layers: You can create an unlimited number of independent render passes such as ambient occlusion, shadows, diffuse, specular, velocity maps, depth maps, and glows for use in compositing and third-party software.
It has Open EXR File Format Support, can create floating-Point Velocity Maps and has full support for 64-bit Operating Systems. Working with the new ATI FirePro V8750 3D workstation graphics accelerator, render times in MachStudio Pro have shown to be reduced from hours to seconds.
MachStudio Pro supports XP and Vista and is delivered with an AMD ATIFirePro V8750 card as mentioned above. There's a special introductory price for the kit in the USA of US$4,999, which includes one year of tech support and maintenance updates. Educational and bulk order pricing is available.
More Information at www.studiogpu.com. Image and Video Courtesy of StudioGPU