New Generation of Middleware for Authoring and Generating High-Quality Dynamic Textures in Real-Time Offers Unprecedented Visual Quality and Graphical Detail for Online and Retail Games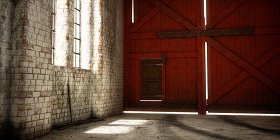 Allegorithmic, an emerging 3D technology company developing advanced texturing tools for real-time 3D content creation, announced Allegorithmic's Substance®, its new texturing middleware for authoring, generating and streaming dynamic textures in real time. Shown for the first time at the 2008 Game Developers Conference (GDC), Substance is poised to redefine the development and distribution of rich content for the next generation of online and retail games. For more information please visit Allegorithmic during GDC 2008 in the North Hall, booth #6533.
"Substance addresses a tremendous need in the games industry and is the culmination of more than two years R&D time at Allegorithmic," said Dr. Sebastien Deguy, the company's president and founder. "For the first time, developers and players have a powerful solution that is so fast it allows for continuous texture streaming during the execution of a game. With Substance, game play will no longer be restricted by bandwidth or memory allocation issues, enabling developers and players to experience higher resolution textures, more dynamic content and richer environments."
"Substance brings us a clear technological edge," said Gregory Garcia, lead graphics engineer at Ubisoft. "Procedural generation of textures allows us to consider new asynchronous loading strategies in order to obtain much bigger worlds. Moreover, Substance will allow us to create richer and more diversified content as well as spectacular graphical effects with controlled production costs."
Substance is Allegorithmic's new generation of middleware for authoring and generating textures that feature unprecedented visual quality and graphical detail. Some of Substance's key features include:
Continuous texture streaming allows delivery of 2-4 times more detailed texture data and real-time integration of weather dependant effects, visual post processes, on-the-fly decal generation and breakable environments.
Fast and multi-threaded texture generation (higher than 4MB/s per core or per SPU) makes it ideal for racing games, flight simulations and other games featuring large environments and/or open worlds.
90% linearity in the number of cores means Substance doesn't impact the GPU and the frame rate of the game.
Significantly minimizes texture memory allocation needs.
Provides a solution to tedious seek times of DVDs.
"As the games industry continues to experience exponential growth, the demand for scalable content will be a critical component of development," said Wanda Meloni, president and senior technology analyst of DFC Intelligence. "Allegorithmic's Substance represents a significant contribution to the games industry and will add tremendous value to today's next-generation game development pipelines, as well as help developers extend the graphical richness of their creations."
Pricing and Availability
Substance pricing models vary based on type of game and gaming platform. Substance is scheduled to ship in spring 2008.
More information at www.allegorithmic.com