---
•
Source:
3Dup.com - The Computer Graphics Portal
•
URL:
http://3dup.com/news/view.vfx?nid=410
•
Category:
Miscellaneous
---
We also publish his Demo Reel 2010
3Dup.com - June 04, 2010 - 11:18
Patrick Boivin is a self-taught director who got his start working on a show called Phylacterecola for a Quebec broadcaster. He has directed several shorts that have been on the international festival circuit. He has created stop-motion animation videos, some of which have gotten over five million hits.
He is wowing everyone on the web with his technical proficiency, but most of all with his very own brand of cheeky pop cultural remixing. Huge names have recently hired Patrick. Indochine, Tony Hawk, Iggy Pop and Google, to name a few. His agent Woolf + Lapin Agency in Montreal and his manger David Alpert from Circle of Confusion in LA.div.overlay { width:1040px; height:644px; } #imgplay { margin:88px 0px 0px 190px; } #player { background:no-repeat url('/videos/news/2010/june/patrick.jpg') top center; } #splash, #player, #player embed, #player object { width:560px; height:340px; }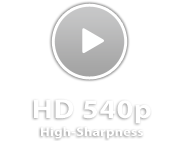 About STROB
Jocelyn "STROB" Simard is a freelance all rounder CG artist based in Montreal, Canada. Now in the process of building up his own studio: StrobFX. Since 1995 Strob has been working in the tv, video game, and movie industry at such studios as Ubisoft, Digital Dimension and Mokko Studio on such projects as Phylactere Cola, Prince of Persia, Myst, TV Shows for Discovery Channel, Journey to the Center of the Earth 3D. His tools are 3dsMax, VRay, XSI, Maya, fumeFX, afterburn, Real Flow, After Effect etc.

More Information at www.woolflapin.com and www.strob.net. Image and Video Courtesy of Sonya Gauthier. Video Encoding: 3Dup.com
---