Front Page
Search
Popular
Off-Site
Free Content
My Visit
| | | | |
| --- | --- | --- | --- |
| Software | | | |
GPU Computing used to Recover Man on The Moon Video
Lowry Digital Relies on Nvidia GPUs to Recover Historic Video by Upgrading 1960s Television Footage to 21st Century High-Definition
| | |
| --- | --- |
| | 3Dup.com - August 05, 2009 - 21:59 |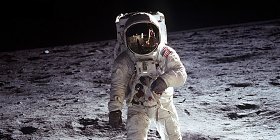 When NASA's original Apollo 11 moon landing video was accidentally destroyed, it seemed the world had lost a visual record of one of man's greatest achievements. Fortunately, unique digital video restoration technology from Lowry Digital, powered by Nvidia® Tesla™ GPUs (graphics processing units) with CUDA™ technology, has enhanced television coverage of the original video so that we can now watch Neil Armstrong take a giant leap for mankind in high-definition (HD).

"Nvidia CUDA has enabled Lowry Digital to develop and use, in a practical and efficient manner, far more complex image processing algorithms than would otherwise be possible, providing great value for our customers." said John D Lowry, founder, Lowry Digital. "This has significantly increased both our image quality and our operational efficiency."


Nvidia Tesla GPUs are high performance parallel processors and work together with CPUs in a co-processing model. Computationally intensive applications like digital video restoration use the massive computational capabilities of the GPU while the sequential part of the application's code runs on the CPU, speeding up the overall process and decreasing time to completion.
Page: [ 2 ]
[

Views

: 2,488 | Refers: 0 | Prints: 162 | Rate: 0.00 / 0 Votes | Posts: 0]
Autodesk Unifies Maya
August 05, 2009 - 14:53

Autodesk announced Autodesk Maya 2010 software, which unifies the Autodesk Maya Complete 2009 and Autodesk Maya Unlimited 2009 feature sets with matchmoving, compositing and ...
Alvin and the Chipmunks: The Squeakquel
August 04, 2009 - 18:56

In the "Squeakquel", pop sensations Alvin, Simon and Theodore end up in the care of Dave Seville's twenty-something nephew Toby (Zachary Levi). The boys must put aside music ...
Searching the New Frontier in 3D Modeling
August 06, 2009 - 21:05

Man-made objects are largely dominated by a few typical features that carry special characteristics and engineered meanings. Stateof-the-art deformation tools fall short at ...