Front Page
Search
Popular
Off-Site
Free Content
My Visit
| | | | |
| --- | --- | --- | --- |
| Hardware | | | |
AMD Reveals the New ATI Radeon HD 5800 Series
World's most advanced graphics processor allows consumers to expand, accelerate and dominate their PC experience with first full support for Microsoft DirectX 11
| | |
| --- | --- |
| | 3Dup.com - September 23, 2009 - 12:01 |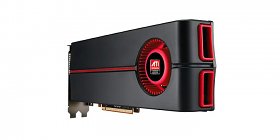 AMD launched the most powerful processor ever created, found in its next-generation graphics cards, the ATI Radeon™ HD 5800 series graphics cards, and the world's first and only to fully support Microsoft DirectX® 11, the new gaming and compute standard shipping shortly with Microsoft Windows® 7 operating system. Boasting up to 2.72 TeraFLOPS of compute power, the ATI Radeon™ HD 5800 series effectively doubles the value consumers can expect of their graphics purchases, delivering twice the performance-per-dollar of previous generations of graphics products.3 AMD will initially release two cards: the ATI Radeon HD 5870 and the ATI Radeon HD 5850, each with 1GB GDDR5 memory. With the ATI Radeon™ HD 5800 series of graphics cards, PC users can expand their computing experience with ATI Eyefinity multi-display technology, accelerate their computing experience with ATI Stream technology, and dominate the competition with superior gaming performance and full support of Microsoft DirectX® 11, making it a "must-have" consumer purchase just in time for Microsoft Windows® 7 operating system.
"With the ATI Radeon HD 5800 series of graphics cars driven by the most powerful processor on the planet, AMD is changing the game, both in terms of performance and the experience," said Rick Bergman, senior vice president and general manager, Products Group, AMD. "As the first to market with full DirectX 11 support, an unmatched experience made possible with ATI Eyefinity technology, and ATI Stream technology harnessing open standards designed to help make Windows 7 that much better, I can say with confidence that AMD is the undisputed leader in graphics once more."
Dominate your competition with Microsoft DirectX® 11 support
Page: [ 2 ] [ 3 ] [ 4 ] [ 5 ]
[

Views

: 2,809 | Refers: 0 | Prints: 158 | Rate: 0.00 / 0 Votes | Posts: 0]
Peripetics. Conceptual 3D Creation
September 22, 2009 - 16:57

It is a stunning video by London-based Zeitguised who made a piece in six acts for the opening exhibition at the Zirkel Gallery. It entails six imaginations of disoriented ...
A Christmas Carol. New CG Film from Disney
September 21, 2009 - 14:10

It is a Victorian morality tale of an old and bitter miser, Ebenezer Scrooge (Jim Carrey), who undergoes a profound experience of redemption over the course of one night. Mr. ...
Intel Showcases 22nm Wafer
September 24, 2009 - 13:02

Intel President and CEO Paul Otellini displayed a silicon wafer containing the world's first working chips built on 22nm process technology. The 22nm test circuits include ...
Maxwell Render 2 is Out
September 24, 2009 - 15:12

It is a rendering engine based on the mathematical equations governing light transport, meaning that all elements, such as emitters, materials and cameras, are derived from ...
Funny CG Short: Fruitless Efforts
September 25, 2009 - 01:15

Fruit of the Womb is a short animated film produced by Minneapolis-based studio Make, LLC. Written and directed by Aaron Quist and Andrew Chesworth, the short is currently ...
The Wolfman. Better than Ever
September 25, 2009 - 02:27

Inspired by the classic Universal film that launched a legacy of horror, The Wolfman brings the myth of a cursed man back to its iconic origins. Oscar winner Benicio Del Toro ...