Front Page
Search
Popular
Off-Site
Free Content
My Visit
| | | | |
| --- | --- | --- | --- |
| Comment this News | | | |
Famed Director and Artist, Shane Acker Joins Gnomon School of Visual Effects as Newest "Artist in Residence"
Rate:

[0.00]

- Comments :

[0]

3Dup.com - August 18, 2009 - 22:19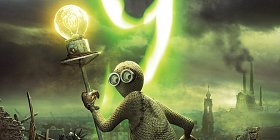 The Gnomon School of Visual Effects announced the addition of Shane Acker, who is joining the staff as the newest Resident Artist. Mr. Acker is widely known for his Academy Award nomination in 2006 (in the Best Animated Short Film category) for writing, directing and animating the 11-minute short film 9. 9 garnered Acker critical acclaim around the globe, ...
[+]
| | | | |
| --- | --- | --- | --- |
| Latest Games News | | | |
Star Wars: The Old Republic Cinematic


June 20, 2010 - 04:45

| | |
| --- | --- |
| The story takes place in the Star Wars fictional universe shortly after the establishment of a tenuous peace between the re-emergent Sith Empire and the Galactic Republic, 300 years after the events of the Star Wars: Knights of the Old Republic games and more than 3,500 years before the events in the Star Wars films. The Jedi are held responsible for the success of the Sith and choose to relocate from Coruscant to Tython, ... [+] | |
Assassin's Creed: Brotherhood Cinematic


June 20, 2010 - 02:19

| | |
| --- | --- |
| This is a third person action-adventure video game in development by Ubisoft for Microsoft Windows, PlayStation 3 and Xbox 360. It is a direct-sequel to Assassin's Creed II and its story will take place shortly after the ending of the previous game, with Ezio returning as the main protagonist. Plot The game begins shortly after the events of Assassin's Creed II, in the year 1499. Monteriggioni is ... [+] | |
Halo: Reach. Video Documentary. Part II


May 06, 2010 - 12:46

This game is an upcoming first-person shooter video game for the Xbox 360. It is part of the Halo series. Its world premiere was held on December 12, 2009, at the Spike Video Game Awards. The game takes place in the year 2552, where humanity is locked in a war with the alien Covenant. Players control Noble 6, a member of an elite supersoldier squad, during a battle for the human world of Reach.

[+]
The Upcoming Lost Planet 2 by Capcom


April 22, 2010 - 17:16

| | |
| --- | --- |
| Lost Planet 2 is an upcoming third-person shooter video game developed and published by Capcom. The game is the sequel to Lost Planet: Extreme Condition, taking place ten years after the events of the first game, on the same fictional planet. The game is being developed for the PlayStation 3, Xbox 360 and Microsoft Windows. Unlike its predecessor, Lost Planet 2 will allow players to create and customize their own ... [+] | |
Tom Clancy's Ghost Recon: Future Soldier Trailer


March 26, 2010 - 15:01

| | |
| --- | --- |
| This video game (previously known as Tom Clancy's Ghost Recon 4) is published by Ubisoft. Excluding expansions, it is the fifth installment in the Ghost Recon series, and was announced to be in development by Ubisoft on January 22, 2009. The game will be a futuristic take on the Ghost Recon series. Initially, the title was revealed to be Tom Clancy's Ghost Recon Predator by an OFLC release. However in December ... [+] | |