Front Page
Search
Popular
Off-Site
Free Content
My Visit
| | | | |
| --- | --- | --- | --- |
| Rate this News | | | |
Igor will be released on this fall.
Rate:

[0.00]

3Dup.com - May 18, 2008 - 20:03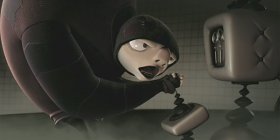 What do you do when you are born with a hunch in your back? In the land of Malaria, you become an Igor. Directed by award-winning animation verteran Tony Leondis (Prince of Egypt, The Road to El Dorado, Lilo & Stitch 2) and from Max Howard, producer involved in such films as The Little Mermaid, Who Framed Roger Rabbit, Aladdin and The Lion King, comes Igor. This playful and irreverent comedy brings a new twist to the classic ...
[+]
| | | | |
| --- | --- | --- | --- |
| Latest Miscellaneous News | | | |
Predators. Video Documentary


July 11, 2010 - 12:42

| | |
| --- | --- |
| The film follows a mercenary named Royce who is abducted by alien creatures known as the Predators. He is released onto an alien planet—which acts as a game reserve—along with seven other humans, who with the exception of a disgraced physician, are all cold-blooded killers consisting of mercenaries and convicts. Royce reluctantly leads the group of elite warriors as they come to realize they have been brought together ... [+] | |
Star Wars: The Force Unleashed II Cinematic


July 05, 2010 - 14:16

| | |
| --- | --- |
| The game will take place about six months after the events of the first game, and a year before Star Wars Episode IV: A New Hope. The Force Unleashed II will be the "dark entry" in the series, and a more "personal" story for the game's protagonist than the first game. Players will control the clone of Starkiller, Darth Vader's secret apprentice ... [+] | |
The Stop Motion of Patrick Boivin


June 29, 2010 - 12:20

| | |
| --- | --- |
| Patrick Boivin is a self-taught director who got his start working on a show called Phylacterecola for a Quebec broadcaster. He has directed several shorts that have been on the international festival circuit. He has created stop-motion animation videos, some of which have gotten over five million hits. He is wowing everyone on the web with his ... [+] | |
Pororoca by Scott Pagano


June 22, 2010 - 23:06

| | |
| --- | --- |
| Pororoca is an exploration through a mysterious underwater world inspired by the forms and movement of sea life and micro organisms. Hybrid organic and synthetic creatures undulate and wander through heavy waters in concert with the cinematic soundtrack. ABOUT SCOTT PAGANO Fusing technology and imagination, Pagano is one of ... [+] | |
Legend of the Guardians


June 21, 2010 - 10:22

| | |
| --- | --- |
| Soren, is a young owl enthralled by his father's epic stories of the Guardians of Ga'Hoole, a mythic band of winged warriors who had fought a great battle to save all of owl kind from the evil Pure Ones. While Soren dreams of someday joining his heroes, his older brother, Kludd, scoffs at the notion, and yearns to hunt, fly and steal his father's favor from his younger sibling. But Kludd's ... [+] | |