Front Page
Search
Popular
Off-Site
Free Content
My Visit
| | | | |
| --- | --- | --- | --- |
| Miscellaneous | | | |
To Be Released on July 4th, 2009
| | |
| --- | --- |
| | 3Dup.com - April 14, 2009 - 22:11 |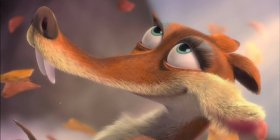 Manny, Sid, Diego, Ellie, Eddie, Crash and Scrat encounter a dinosaur, reptile, and amphibian population which survived extinction in its tropical paradise, which existed below the thick layers... until now. Meanwhile, Crash and Eddie are up to their usual crazy selves. Manny and Ellie have since become an item and are going to have their first baby, and Manny wants everything to be perfect when his baby arrives. Diego is tired of being treated like a "House-cat" and ponders the notion that he's being too laid back. Sid starts to wish for a family of his own, and so steals some dinosaur eggs which leads his herd to go and to try to rescue him while dodging dinosaurs and facing danger left and right; they also meet up with a new friend who's a one-eyed weasel known as Buck (Simon Pegg), who hunts Dinosaurs intently. Scrat also meets a squirrel named Scratte and could find a possible romance with her.
More Information at:
www.iceage3.com
. Image & Video Courtesy of Blue Sky & 20th Century Fox Corp.

[

Views

: 2,268 | Refers: 0 | Prints: 193 | Rate: 0.00 / 0 Votes | Posts: 0]
Dragonball Evolution. Action and Visual Effects
April 09, 2009 - 00:00

"Dragonball: Evolution" is a live-action motion picture based on the popular Japanese manga created by Akira Toriyama. Toriyama's work spawned best selling graphic novels, ...
Psyop Creates Happiness Factory 3
April 17, 2009 - 23:24

It is the middle of the afternoon and a student decides it's time for a break. He yawns as he heads over to a vending machine for a Coke, and a lookout worker inside the ...