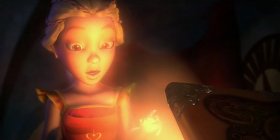 StudioGPU released MachStudio Pro 1.2. This real-time 3D workflow and rendering package can accelerate pro GPUs to deliver real-time and near real-time workflow performance on desktop workstations. MachStudio Pro 1.2 is delivered with the new AMD ATI FirePro V8750 pro 3D workstation graphics accelerator, included with the program, or the equivalent NVIDIA accelerator can be attached and used, depending on your studio's needs.

The MachStudio Pro workflow shows lighting, camera views and multi-point perspectives for a real-time view of frames as they will appear in the final rendered format. Users can easily manage and interact with complex lighting, caustics, cameras, shaders, materials, ambient occlusion, and color grading for real-time shot finaling and compositing.


New features of MachStudio Pro 1.2, include Displacement Mapping using hardware tessellation, full stereoscopic Camera Support, a cartoon Shader and custom Configurable Anti-Aliasing.