Front Page
Search
Popular
Off-Site
Free Content
My Visit
| | | | |
| --- | --- | --- | --- |
| Miscellaneous | | | |
A Christmas Carol. New CG Film from Disney
The film is written and directed by Robert Zemeckis, and stars Jim Carrey in a multitude of roles
| | |
| --- | --- |
| | 3Dup.com - September 21, 2009 - 14:10 |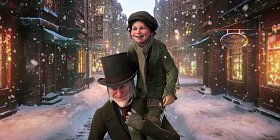 It is a Victorian morality tale of an old and bitter miser, Ebenezer Scrooge (Jim Carrey), who undergoes a profound experience of redemption over the course of one night. Mr. Scrooge is a financier/money-changer who has devoted his life to the accumulation of wealth. He holds anything other than money in contempt, including friendship, love and the Christmas season. But an encounter with the ghostly figure of Jacob Marley (Gary Oldman) sets the stage for a mysterious and magical encounter with three phantasmic beings to help him realize the true magic of Christmas itself.
More Information at
www.disney.com/christmascarol
. Image and Video Courtesy of The Walt Disney Company
[

Views

: 1,952 | Refers: 0 | Prints: 170 | Rate: 0.00 / 0 Votes | Posts: 0]
Halo 3: ODST Documentary
September 16, 2009 - 15:25

This video game is a standalone expansion for the first-person shooter video game Halo 3. It will be released as an Xbox 360 video game console exclusive on September 22, ...
Peripetics. Conceptual 3D Creation
September 22, 2009 - 16:57

It is a stunning video by London-based Zeitguised who made a piece in six acts for the opening exhibition at the Zirkel Gallery. It entails six imaginations of disoriented ...