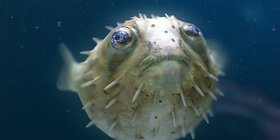 Framestore CFC has recently completed work on a trippy, fishy little promotional video for The Salmon Dance, a new single by The Chemical Brothers, featuring vocals by ex-Pharcyde rapper, Fatlip. With a cast of over 300 piscine performers, the video is the latest collaboration between directing team Dom & Nic and Framestore CFC. Drawn from the Brothers' latest album, We Are the Night, the video was produced by John Madsen for Factory Films.

The last time that Tom & Ed and Dom & Nic and Framestore CFC got together, the result was Believe, a brilliant and unnerving video featuring a menacing CG robot which won wide acclaim, including 'Best Special Effects' at the 2006 CADS Music Vision Awards. So there was plenty to live up to this time around. Fortunately, this particular combination of audio and visual talent is one of the most inventive going, and The Salmon Dance, in addition to being infernally catchy, is one of the wittiest, prettiest videos around.


A young guy is woken from his bed by a faint noise from next door. Walking through, he slowly approaches a large fish tank. As he nears the glass, a large piranha looks out at him and says (lip-synching to the start of the song), "Hello boys and girls, my name is Fatlip, and this is my friend, Sammy the Salmon," at which point a Squirrel Fish (!) introduces himself with a casual, "What do?. Today we're going to teach you some fun facts about salmon," Fatlip continues, "And a brand new dance." The beat then kicks in, with a puffer fish inflating and deflating in time to the pulse.