Front Page
Search
Popular
Off-Site
Free Content
My Visit
| | | | |
| --- | --- | --- | --- |
| Miscellaneous | | | |
Updated - CG Movie Kung Fu Panda
New Trailer About the Latest Computer Graphics Movie of Dreamworks
| | |
| --- | --- |
| | 3Dup.com - April 19, 2008 - 20:49 |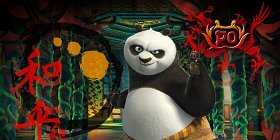 Enthusiastic, big and a little clumsy, Po is the biggest fan of Kung Fu around, which doesn't exactly come in handy while working every day in his family's noodle shop. Unexpectedly chosen to fulfill an ancient prophecy, Po's dreams become reality when he joins the world of Kung Fu and studies alongside his idols, the legendary fighters Tigress, Crane, Mantis, Viper and Monkey, under the leadership of their guru, Master Shifu.

But before they know it, the vengeful and treacherous snow leopard Tai Lung is headed their way, and it's up to Po to defend everyone from the oncoming threat. Can he turn his dreams of becoming a Kung Fu master into reality? Po puts his heart (and his girth) into the task, and the unlikely hero ultimately finds that his greatest weaknesses turn out to be his greatest strengths.



More Information at: kungfupanda.com. Image and Videos Courtesy of DreamWorks.
[

Views

: 7,789 | Refers: 6 | Prints: 401 | Rate: 0.00 / 0 Votes | Posts: 0]
Updated - New Trailer of Speed Racer Movie
April 16, 2008 - 20:07

From writer-directors Larry and Andy Wachowski, the creators of the groundbreaking "The Matrix" trilogy, and producer Joel Silver comes the live-action, high-octane family ...
The Making of Burning Safari Short
April 06, 2008 - 21:49

Who knew that when the aliens came, they wouldn't be little green men but boxy little shutterbugs? In Burning Safari, a toon-inflected 3D short from a cohort of ...
Guillermo del Toro Strikes Back with Hellboy 2
April 23, 2008 - 21:30

With a signature blend of action, humor and character-based spectacle, the saga of the world's toughest, kitten-loving hero from Hell continues to unfold in Hellboy II: The ...