Front Page
Search
Popular
Off-Site
Free Content
My Visit
| | | | |
| --- | --- | --- | --- |
| Software | | | |
Autodesk Completes Acquisition of Softimage
Interview with Marc Stevens, General Manager of Softimage, and Marc Petit, Senior Vice-President, Autodesk Media & Entertainment
| | |
| --- | --- |
| | 3Dup.com - December 21, 2008 - 02:03 |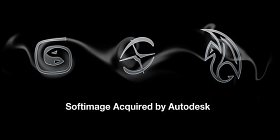 Autodesk announced that it has completed the acquisition of substantially all of the assets of Softimage - a developer of 3D technology for the film, television and games markets - for approximately $35 million. On October 23, 2008, Autodesk announced it had signed a definitive agreement to acquire Softimage from Avid Technology, Inc.

"We welcome Softimage customers, strategic partners and employees to Autodesk," said Marc Petit, senior vice president, Autodesk Media & Entertainment. "This acquisition brings advanced 3D tools to our entertainment portfolio; tools that are known and loved by the 3D entertainment community. With production pipelines becoming entirely digital, and the convergence between games, film and television content, this acquisition is expected to complement and accelerate Autodesk's work in building real-time, interactive 3D authoring tools."


Petit added: "I'd like to reiterate that we plan to maintain and grow the Softimage product line, while doing the same with our existing 3D animation, modeling and rendering software products. Marc Stevens, former general manager of Softimage, has joined my management team. I look forward to working with him and the talented Softimage product and business teams to evolve the Softimage products' capabilities."
Page: [ 2 ]
[

Views

: 2,550 | Refers: 0 | Prints: 288 | Rate: 0.00 / 0 Votes | Posts: 0]
DAZ 3D Boosts Performance with Carrara 7.0
December 20, 2008 - 21:50

As the demand for an efficient, feature-rich and cost-effective 3D toolset expands, DAZ 3D responds with the release of Carrara 7.0, the latest version of its popular ...
Latest Final Fantasy Video. High-End CG
December 17, 2008 - 23:31

Final Fantasy Versus XIII revolves around a prince named Noctis Lucis Caelum, who is the last heir to an unnamed kingdom in which the last Crystal is kept. Because of ...
Intel Completes 32nm Process Development Phase
December 21, 2008 - 18:41

Intel Corporation has completed the development phase of its next-generation manufacturing process that further shrinks chip circuitry to 32 nanometers (a billionth of a ...