Front Page
Search
Popular
Off-Site
Free Content
My Visit
| | | | |
| --- | --- | --- | --- |
| Rate this News | | | |
Caustic Beats Intel to the Punch With Real-Time Ray-Tracing?
Rate:

[0.00]

3Dup.com - March 12, 2009 - 23:35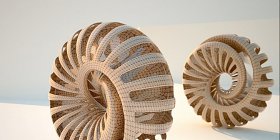 Caustic Graphics, a new 3D computer graphics company, launched a fundamental breakthrough in raytracing acceleration that is set to define a new era in professional 3D production and interactive consumer graphics. Raytracing, the gold-standard for creating 3D imagery, duplicates the natural physics of light, creating stunning images by meticulously tracing the path of light to and throughout any given ...
[+]
| | | | |
| --- | --- | --- | --- |
| Latest Hardware News | | | |
Asus G73 Notebook with ATI Mobility Radeon HD 5870


March 24, 2010 - 13:48

| | |
| --- | --- |
| The new Asus Republic of Gamers (ROG) G73Jh is like no other gaming notebook. Eschewing the flash and gimmicks typical of gaming notebooks, the G73Jh instead boasts an understated, subtly aggressive design inspired by a stealth fighter. At its heart lies the most powerful components available today, including the latest Intel® Core™ i7 processor, DirectX ... [+] | |
Wacom has introduced the New Cintiq 21UX


March 02, 2010 - 11:56

| | |
| --- | --- |
| The 21UX is capable of capturing the slightest nuance of pen pressure against the LCD surface, as well as offering 2048 levels of pressure sensitivity. Other innovative enhancements include rear-mounted Touch Strips that are ideally placed for fingertip access while working. Each Touch Strip has an accompanying thumb-controlled Touch Strip Toggle button that ... [+] | |
AMD Introduces ATI Radeon HD 5970: Fastest Graphics Card in the World


November 19, 2009 - 00:04

| | |
| --- | --- |
| AMD announced the flagship installment in the award-winning line of graphics cards, the ATI Radeon™ HD 5970, the fastest card ever created. The new ultra high-end model joins a growing list of the world's first and only graphics cards to fully support Microsoft DirectX® 11 technology and ATI Eyefinity multi-display technology. Designed to support the most demanding PC games ... [+] | |
Apple Unveils New iMac with 21.5 and 27 inch Displays


October 21, 2009 - 15:12

| | |
| --- | --- |
| Apple® unveiled an all new iMac® line featuring brilliant LED-backlit 21.5 and 27-inch widescreen displays in a new edge-to-edge glass design and seamless all aluminum enclosure. The new iMac line, starting at $1,199, is the fastest ever with Intel Core 2 Duo processors starting at 3.06 GHz, and Core i5 and i7 quad-core processors for up to ... [+] | |
Intel Showcases 22nm Wafer


September 24, 2009 - 13:02

| | |
| --- | --- |
| Intel President and CEO Paul Otellini displayed a silicon wafer containing the world's first working chips built on 22nm process technology. The 22nm test circuits include both SRAM memory as well as logic circuits to be used in future Intel microprocessors. "At Intel, Moore's Law is alive and thriving," said Otellini. "We've begun production of the world's first 32nm ... [+] | |