Front Page
Search
Popular
Off-Site
Free Content
My Visit
| | | | |
| --- | --- | --- | --- |
| Send this News | | | |
Ever wonder what it feels like to be behind the gearstick of a fighter jet?
Rate:

[0.00]

3Dup.com - November 14, 2009 - 00:14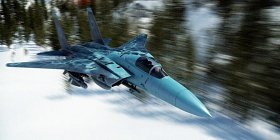 RealtimeUK, established in 1996, is a CG Production house based in Lancashire, directed by important producers and directors from the games and television industry. They work with leading companies, producing CG animations for video games, television commercials and digital campaigns. To date, RealtimeUK's client base boasts such well known names as Sony Computer Entertainment ...
[+]
| | | | |
| --- | --- | --- | --- |
| Latest Games News | | | |
Star Wars: The Old Republic Cinematic


June 20, 2010 - 04:45

| | |
| --- | --- |
| The story takes place in the Star Wars fictional universe shortly after the establishment of a tenuous peace between the re-emergent Sith Empire and the Galactic Republic, 300 years after the events of the Star Wars: Knights of the Old Republic games and more than 3,500 years before the events in the Star Wars films. The Jedi are held responsible for the success of the Sith and choose to relocate from Coruscant to Tython, ... [+] | |
Assassin's Creed: Brotherhood Cinematic


June 20, 2010 - 02:19

| | |
| --- | --- |
| This is a third person action-adventure video game in development by Ubisoft for Microsoft Windows, PlayStation 3 and Xbox 360. It is a direct-sequel to Assassin's Creed II and its story will take place shortly after the ending of the previous game, with Ezio returning as the main protagonist. Plot The game begins shortly after the events of Assassin's Creed II, in the year 1499. Monteriggioni is ... [+] | |
Halo: Reach. Video Documentary. Part II


May 06, 2010 - 12:46

This game is an upcoming first-person shooter video game for the Xbox 360. It is part of the Halo series. Its world premiere was held on December 12, 2009, at the Spike Video Game Awards. The game takes place in the year 2552, where humanity is locked in a war with the alien Covenant. Players control Noble 6, a member of an elite supersoldier squad, during a battle for the human world of Reach.

[+]
The Upcoming Lost Planet 2 by Capcom


April 22, 2010 - 17:16

| | |
| --- | --- |
| Lost Planet 2 is an upcoming third-person shooter video game developed and published by Capcom. The game is the sequel to Lost Planet: Extreme Condition, taking place ten years after the events of the first game, on the same fictional planet. The game is being developed for the PlayStation 3, Xbox 360 and Microsoft Windows. Unlike its predecessor, Lost Planet 2 will allow players to create and customize their own ... [+] | |