Front Page
Search
Popular
Off-Site
Free Content
My Visit
| | | | |
| --- | --- | --- | --- |
| Miscellaneous | | | |
Burma Viral. A CG Spot with Talent
It was initially produced to bring the world's attention to the plight of Burma's people under the political regime
| | |
| --- | --- |
| | 3Dup.com - January 10, 2009 - 22:04 |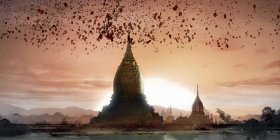 Shilo joined forces with an amazing group of people to create this viral public service announcement (PSA). The original purpose of the film was to raise awareness on the Burmese peoples ongoing peaceful protests against their military government's notorious human rights violations. When Cyclone Nargis hit, causing untold loss of life and devastation across the country, Shilo immediately altered the spot to address the immediate need for aid hoping to compel the global community to act in the face of this tragedy.
More information at:
www.noneofusarefree.org
. Images and Videos Courtesy of Shilo VFX

[

Views

: 5,288 | Refers: 0 | Prints: 271 | Rate: 9.00 / 1 Vote | Posts: 0]
New Monsters vs Aliens Trailer & Featurette
January 10, 2009 - 01:32

When California girl Susan Murphy is unwittingly clobbered by a meteor full of outer space gunk on her wedding day, she mysteriously grows to 49-feet-11-inches tall. The ...
Exceptional Cinematic for Stormbirds
January 08, 2009 - 22:39

Cinematic created for Stormbirds, a Game developed by Juice Games, but unfortunately canceled by THQ. Everything was done in 3DS Max, UV's in UVLayout, Texturing in ...
Shilo's Deviant Fable. Sheepmen vs Demons
January 14, 2009 - 23:17

The Poe-esque fable follows the misadventures of the bland, conformist Sheeple as they fall foul to all manner of grisly deaths at the hands of the rebellious Deviants. The ...