Front Page
Search
Popular
Off-Site
Free Content
My Visit
| | | | |
| --- | --- | --- | --- |
| Miscellaneous | | | |
New Monsters vs Aliens Trailer & Featurette
A DreamWorks Animation To Be Released on March 27, 2009
| | |
| --- | --- |
| | 3Dup.com - January 10, 2009 - 01:32 |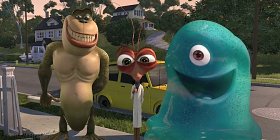 When California girl Susan Murphy is unwittingly clobbered by a meteor full of outer space gunk on her wedding day, she mysteriously grows to 49-feet-11-inches tall. The military jumps into action and Susan is captured and secreted away to a covert government compound. There, she is renamed Ginormica and placed in confinement with a ragtag group of Monsters: the brilliant but insect-headed Dr. Cockroach, Ph.D.; the macho half-ape, half-fish The Missing Link; the gelatinous and indestructible B.O.B.; and the 350-foot grub called Insectosaurus. Their confinement is cut short, however, when a mysterious alien robot lands on Earth and begins storming the country. In a moment of desperation, the President is persuaded to enlist the motley crew of Monsters to combat the Alien Robot and save the world from imminent destruction.
More Information at:
www.monstersvsaliens.com
. Images and Videos Courtesy of DreamWorks and Paramount Pictures
[

Views

: 3,851 | Refers: 0 | Prints: 281 | Rate: 0.00 / 0 Votes | Posts: 0]
Exceptional Cinematic for Stormbirds
January 08, 2009 - 22:39

Cinematic created for Stormbirds, a Game developed by Juice Games, but unfortunately canceled by THQ. Everything was done in 3DS Max, UV's in UVLayout, Texturing in ...
Burma Viral. A CG Spot with Talent
January 10, 2009 - 22:04

Shilo joined forces with an amazing group of people to create this viral public service announcement (PSA). The original purpose of the film was to raise awareness on the ...