Front Page
Search
Popular
Off-Site
Free Content
My Visit
| | | | |
| --- | --- | --- | --- |
| Miscellaneous | | | |
The Gnomon Workshop Releases Five New DVDs
Color Theory: The Mechanics of Color - Designing Creatures in Adobe Photoshop - The Skinned Character Rig - Creating a Character Figure - Watercolor and Gouache Painting
| | |
| --- | --- |
| | 3Dup.com - January 27, 2009 - 22:04 |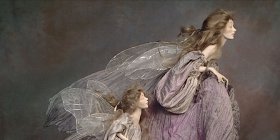 The Gnomon Workshop released a wide range of new titles. From "The Skinned Character Rig" to "Watercolor and Gouache Painting," these DVDs offer something for everyone. This group of DVDs ushers the return of instructors Aaron Sims, Wendy Froud and Carlo Sansonetti, each one building on previous lectures on character design, character sculpting and character rigging. This week we also introduce world class instructors Erik Tiemens and Richard Keyes. Erik, an award-winning movie concept artist, teaches his watercolor and gouache techniques for quickly capturing the essence of an idea or concept techniques useful for fine artists and concept designers alike. Richard presents a must-have lecture on color, breaking down the concepts of color and demonstrating through historical and contemporary examples how artists have used color harmonies and contrasts to compose their images. See descriptions for details of each DVD below.
ACCOLADES
:
Page: [ 2 ] [ 3 ] [ 4 ] [ 5 ]
[

Views

: 3,007 | Refers: 0 | Prints: 236 | Rate: 0.00 / 0 Votes | Posts: 0]
Plastis Wax Creates Dawn of War II Cinematic
January 24, 2009 - 15:42

Developed by Relic Entertainment, Warhammer: Dawn of War II ushers in a new chapter in the RTS series -taking players to the frontlines of war to lead an elite strike force ...
Impressive Latest Blizzard's Intros
January 29, 2009 - 22:05

If you are not impressed, then you will have to improve your information about how the CG World is and its difficulty. These Blizzard's Cinematics reveal the model to ...