Front Page
Search
Popular
Off-Site
Free Content
My Visit
| | | | |
| --- | --- | --- | --- |
| Miscellaneous | | | |
Making of Warhammer Cinematic by Blur Studios
Presented by Gnomon School of Visual Effects in its Shot Breakdown Series
| | |
| --- | --- |
| | 3Dup.com - December 27, 2008 - 00:09 |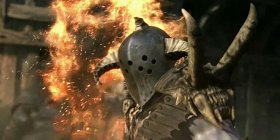 Filmed on December 4th, 2008 at the Gnomon School of Visual Effects, "The Making of" Event shows how Blur Studio shares details of the production process behind the Warhammer Online: Age of Reckoning cinematic trailer. 3Dup.com has summarized in 3 minutes an event which went on for 2 hours, extracting some outstanding moments and comparing the CG shoots with the final result. This awesome Cinematic demonstrates the high skills and profesionalism of Blur Studios as such we are used to see in the past. The Editor staff strongly recommends to pay attention in these two worthy videos as well as we wish you enjoy this High-End Computer Graphics experience.
More Info at
www.gnomonschool.com
and
www.blur.com
. Images and Videos Courtesy of Gnomon Inc., Blur Studios and EA Games
[

Views

: 6,603 | Refers: 0 | Prints: 273 | Rate: 0.00 / 0 Votes | Posts: 0]
Behind Scenes of the CG Movie: Delgo
December 23, 2008 - 00:10

In an exotic divided land, Delgo, an adventurous dreamer but naive teenager, must rally his group of troubled youth and some unlikely friends to protect their world from ...
Watchmen. A Film Plenty of Action
December 31, 2008 - 18:16

A complex, multi-layered mystery adventure, the film is set in an alternate 1985 America in which costumed superheroes are part of the fabric of everyday society, and the ...