Front Page
Search
Popular
Off-Site
Free Content
My Visit
| | | | |
| --- | --- | --- | --- |
| Miscellaneous | | | |
Red Bull Formula 1 Team Explains its Revolution with 3D Techniques
3 Videos from Peter Clausen Film and TV Productions. Cinema 4D Helps Explaining the Most Sweeping Changes in the F1 History
| | |
| --- | --- |
| | 3Dup.com - April 22, 2009 - 21:25 |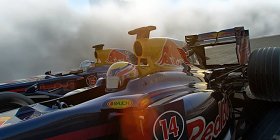 For the 2009 season Formula 1 has seen one of the most sweeping changes in the sport's history. The new regulations significantly change how the cars look and behave and affect everything from aerodynamics to tires. Additionally, one of the most innovative additions to the cars has been made with the new KERS powertrain. It recovers wasted kinetic energy generated under breaking and stores it in a battery. Using that stored energy, the driver can boost the performance of his car by approximately 80 horse power for up to six-and-a-half seconds.


After the success of the Singapore "Let's do a lap" film, Red Bull Racing trusted Peter Clausen Film & TV (Munich, Germany) once again with the production of an explanatory film showcasing the rule changes and their effect on the race. The basic idea of the film is to show the assembly of the previous season's car and then transform it to meet the 2009 season regulations. While the content of the film should supply all the information about the new rules it was also supposed to be a fun and entertaining ride.
Page: [ 2 ] [ 3 ] [ 4 ] [ 5 ] [ 6 ]
[

Views

: 2,179 | Refers: 0 | Prints: 151 | Rate: 0.00 / 0 Votes | Posts: 0]
The Mill Demo Reel 2009 Revealed
April 18, 2009 - 13:54

The Mill is a leading visual effects company offering creative partnerships and collaboration in advertising, broadcast, film, music video and digital assets. The Mill has ...
Psyop Creates Happiness Factory 3
April 17, 2009 - 23:24

It is the middle of the afternoon and a student decides it's time for a break. He yawns as he heads over to a vending machine for a Coke, and a lookout worker inside the ...