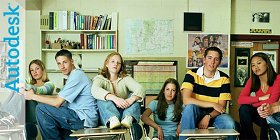 Autodesk, Inc. has released the 2008 version of its popular Animation Academy for Autodesk 3ds Max and Autodesk Maya software products. Autodesk Animation Academy is the premier visual communication program for secondary schools wishing to bring mathematical, technical, scientific and artistic subject matter to life. The team-based curriculum teaches students sophisticated 3D visualization and animation skills with the same technology that is used by professionals in the media and entertainment industry.

The 2008 release of Animation Academy is available globally for both the 3ds Max and Maya 3D modeling, animation and rendering software products. Animation Academy for 3ds Max is available to Windows operating system users. Animation Academy for Maya is available to secondary schools teaching on the Macintosh and Windows platforms.

David Della-Rocca, education product manager for Autodesk Media & Entertainment, said, "The demand for skilled workers who have a firm grasp of visual communication and animation is on the rise in entertainment, as well as in many other arts- and design-focused industries. The Autodesk Animation Academy helps propel students into exciting careers by familiarizing them with the latest 3D software, while supplementing their critical thinking, design and communication skills across academic disciplines."

Autodesk Animation Academy curriculum is already being taught in secondary schools throughout North America, Australia, Hong Kong and Singapore. It provides a team-based, cross-discipline curriculum aligned to U.S. academic standards. The curriculum was developed specifically for secondary schools by experienced educators and technical experts. It encourages students to explore specific topics, such as the physics of planetary motion, archeological reconstruction of the Parthenon, the digestive system and more. Students then use the 3D animation technology of Autodesk 3ds Max and Autodesk Maya to demonstrate and present what they have learned.