Front Page
Search
Popular
Off-Site
Free Content
My Visit
| | | | |
| --- | --- | --- | --- |
| Software | | | |
Maxon Unleashes Cinema 4D R10.5
New Version Delivers Dwg Import Xrefs New Mocca Tools and Accelerated Hair Rendering
| | |
| --- | --- |
| | 3Dup.com - October 10, 2007 - 23:40 |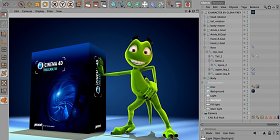 MAXON released a dramatically enhanced version of its CINEMA 4D software. Sporting a wealth of new features added to the core CINEMA 4D program, the update also takes in a number of enhancements that have been made to CINEMA 4D's optional modules. Chief among these are new tools for MOCCA and MoGraph, plus major enhancements to HAIR.

One highlight is the new DWG import filter. CINEMA 4D users now have access to one of the most widely used CAD exchange formats on the market. AutoCAD versions 13 to 2008 are supported, including layers, blocks and references. A further boost to file exchange for customers in the architectural field is the new connection to Allplan 2008, which guarantees loss-free transfer from CINEMA 4D R10.5.


Users working as a team are set to see a huge benefit with the eagerly anticipated arrival of XRefs. These external references allow a large scene to be broken down into parts, each of which can be worked on separately to the master project file, thus allowing multiple users to work on the same project file at the same time for super fast project turnaround. Further additions bolstering the update are new modeling tools (Connect, Dissolve and Spin Edge), a completely new way to light scenes (with the new Lighting Tool you control the lighting rather than the lights), plus a powerful new method to unwrap UVs of organic objects without undercuts.
Page: [ 2 ]
[

Views

: 3,565 | Refers: 0 | Prints: 335 | Rate: 0.00 / 0 Votes | Posts: 0]
Luxology Uses Subdivision Surface Tech from Pixar
October 09, 2007 - 00:03

Luxology® announced that Pixar Animation Studios and Luxology have finalized an agreement under which Pixar has licensed its Subdivision Surface Patents to Luxology. The ...
Halo 3 Launched. It Racks Up Record Sales
September 30, 2007 - 11:11

Microsoft announced that the Xbox 360 exclusive game "Halo 3" has officially become the biggest entertainment launch in history, garnering an estimated $170 million in sales ...