Front Page
Search
Popular
Off-Site
Free Content
My Visit
| | | | |
| --- | --- | --- | --- |
| Miscellaneous | | | |
Sway Uncorks Animated Dancers for Spot
Top VFX Studio Showcases Ground-Breaking Animation Techniques. Owner and Creative Director Mark Glaser Serves as Spots Director
| | |
| --- | --- |
| | 3Dup.com - November 21, 2007 - 20:54 |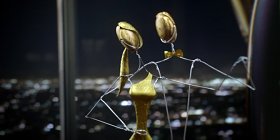 Capturing the essence of the holiday season, SWAY studio adds life, spirit and a sense of romanticism to the newest Chandon Sparkling Wine commercial entitled "After Party". SWAY's talented team of artists combined detailed character animation with high dynamic range imaging (HDRI) and their renowned photogrammetry techniques to add precision and energy to this fanciful spot which is currently airing on select US cable and network broadcast stations.

The :30 spot captures a private moment between two magical characters, evolving from a Chandon bottle's wire cage and foil, as they share a secret tango among romantic computer generated table top candles, chilled bottles of Chandon, and the sparkle of city lights.

"The challenge in this project was to evoke passion and emotion from characters made simply from foil and wire," said Mark Glaser, owner and creative director of SWAY. "I was really pleased with the way the characters turned out, especially the woman. She has a lot of personality and attitude. I really wish this was a :60 spot as I would have loved to have had the opportunity to develop these characters even more."


SWAY started with a professional live action tango duo, directing them to create the performance that would be used for the wire characters. Because the dancers were so intertwined at times, SWAY opted to use motion capture techniques, instead of multi-camera video reference. To provide the correct quality of movement, SWAY used the motion capture data applied to the wire characters as a reference to animate the hero wire characters in 3D space.
Page: [ 2 ]
[

Views

: 8,831 | Refers: 0 | Prints: 439 | Rate: 0.00 / 0 Votes | Posts: 0]
New Modo Tutorials for Lightweight Game Assets
November 11, 2007 - 14:06

Luxology® LLC announced "The Alley", six new tutorials that explain how to harness modo™'s modeling, painting and baking tools to produce efficient, high-quality ...
The Embassy Uses Modo 301 for Short Film Terminus
November 21, 2007 - 21:04

Luxology® LLC announced that The Embassy used modo™ 301 for "Terminus", a new short film by director Trevor Cawood. The visual effects team made extensive use of modo ...