Front Page
Search
Popular
Off-Site
Free Content
My Visit
| | | | |
| --- | --- | --- | --- |
| Software | | | |
New Modo 302 Update Enhances Artist-Friendly Toolset
Modern 3D Content Creation Software Adds Intuitive Modeling and Animation Features Enhanced Photoshop File Support Rendering Advancements and New Modo Sdk
| | |
| --- | --- |
| | 3Dup.com - April 06, 2008 - 14:20 |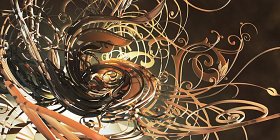 Luxology LLC announced the immediate availability of modo™ 302, the newest version of its award-winning, artist-friendly 3D content creation software. Free for registered modo 301 customers, modo 302 adds new natural lighting capabilities, additional layered Photoshop file support, an animation Track View, new modeling tools and numerous other enhancements. Luxology is also making available the first version of the modo File I/O software development kit (SDK), which allows developers to import or export data directly from modo. modo 302 is available for both Mac OSX and Windows.

"This is the most comprehensive free update in modo's history," said Brad Peebler, president and co-founder of Luxology. "modo 302's workflow is smoother than ever with a host of carefully crafted user interface refinements, major new animation controls and a battery of new features."


"modo 302 is packed with enhancements that make it an even greater asset to our game production pipeline," said David Vasquez of Mainland Gaming LLC. "We are particularly impressed with modo's new File I/O SDK, which streamlines our workflow by allowing us to export Collada content from modo directly into Terathon Software's C4 Engine."
Page: [ 2 ] [ 3 ]
[

Views

: 5,032 | Refers: 0 | Prints: 315 | Rate: 0.00 / 0 Votes | Posts: 0]
The Gnomon Workshop Releases Three New Dvds
April 05, 2008 - 20:57

This week The Gnomon Workshop will be releasing their ground-breaking new "Behind The Scenes" series. This new series is an exciting look at the creation of a game cinematic ...
Sea Monsters - A Prehistoric Adventure
March 24, 2008 - 23:42

Stunning photo-realistic computer-generated animation transports audiences back to the Late Cretaceous, when a great inland sea divided North America in two. The film follows ...
The Making of Burning Safari Short
April 06, 2008 - 21:49

Who knew that when the aliens came, they wouldn't be little green men but boxy little shutterbugs? In Burning Safari, a toon-inflected 3D short from a cohort of ...