Front Page
Search
Popular
Off-Site
Free Content
My Visit
| | | | |
| --- | --- | --- | --- |
| Miscellaneous | | | |
Watchmen. A Film Plenty of Action
From the 300 Movie Director. Intensive VFXs. In Theaters on March 6, 2009
| | |
| --- | --- |
| | 3Dup.com - December 31, 2008 - 18:16 |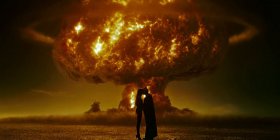 A complex, multi-layered mystery adventure, the film is set in an alternate 1985 America in which costumed superheroes are part of the fabric of everyday society, and the "Doomsday Clock" -which charts the USA's tension with the Soviet Union- is permanently set at five minutes to midnight. When one of his former colleagues is murdered, the washed-up but no less determined masked vigilante Rorschach sets out to uncover a plot to kill and discredit all past and present superheroes. As he reconnects with his former crime-fighting legion -a ragtag group of retired superheroes, only one of whom has true powers- Rorschach glimpses a wide-ranging and disturbing conspiracy with links to their shared past and catastrophic consequences for the future. Their mission is to watch over humanity ... but who is watching the Watchmen?
More Information at:
www.watchmenmovie.com
. Image and Videos Courtesy of Warner Bros. Entertainment Inc.
[

Views

: 4,403 | Refers: 2 | Prints: 288 | Rate: 0.00 / 0 Votes | Posts: 0]
Making of Warhammer Cinematic by Blur Studios
December 27, 2008 - 00:09

Filmed on December 4th, 2008 at the Gnomon School of Visual Effects, "The Making of" Event shows how Blur Studio shares details of the production process behind the Warhammer ...
Tim Burton's New CG Production
January 06, 2009 - 01:49

Visionary filmmakers Tim Burton (The Corpse Bride, Charlie and The Chocolate Factory) and Timur Bekmambetov (Wanted, Nightwatch) join forces to produce wunderkind director ...