Front Page
Search
Popular
Off-Site
Free Content
My Visit
| | | | |
| --- | --- | --- | --- |
| Miscellaneous | | | |
Shilo's Deviant Fable. Sheepmen vs Demons
The Animated Spot by Shilo for Scion's New xD Car
| | |
| --- | --- |
| | 3Dup.com - January 14, 2009 - 23:17 |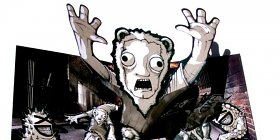 The Poe-esque fable follows the misadventures of the bland, conformist Sheeple as they fall foul to all manner of grisly deaths at the hands of the rebellious Deviants. The spot marks Shilo's latest collaboration with Scion, and the brand's first campaign since the hugely popular and highly successful want2Bsquare web films project.

"Our initial collaboration with Scion came approximately two years ago," explains Shilo exec producer Santino Sladavic. "We pitched on some 15 second spots for Scion xB and tC. They were slated to air during a film festival but Scion liked the work so much that they turned them into broadcast and cinema spots."




Page: [ 2 ]
[

Views

: 2,356 | Refers: 0 | Prints: 224 | Rate: 0.00 / 0 Votes | Posts: 0]
Burma Viral. A CG Spot with Talent
January 10, 2009 - 22:04

Shilo joined forces with an amazing group of people to create this viral public service announcement (PSA). The original purpose of the film was to raise awareness on the ...
New Monsters vs Aliens Trailer & Featurette
January 10, 2009 - 01:32

When California girl Susan Murphy is unwittingly clobbered by a meteor full of outer space gunk on her wedding day, she mysteriously grows to 49-feet-11-inches tall. The ...
Autodesk Games Show Reel Call for Submissions
January 17, 2009 - 20:05

Autodesk is accepting submissions for your recent video-game cinematics, trailers, in-game sequences, or animations created with any or a combination of the following ...