Front Page
Search
Popular
Off-Site
Free Content
My Visit
| | | | |
| --- | --- | --- | --- |
| Software | | | |
Allegorithmic Unveils Substance at GDC 2008
New Generation of Middleware for Authoring and Generating High-Quality Dynamic Textures in Real-Time Offers Unprecedented Visual Quality and Graphical Detail for Online and Retail Games
| | |
| --- | --- |
| | 3Dup.com - March 09, 2008 - 12:08 |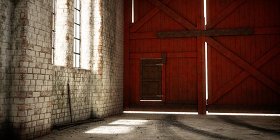 Allegorithmic, an emerging 3D technology company developing advanced texturing tools for real-time 3D content creation, announced Allegorithmic's Substance®, its new texturing middleware for authoring, generating and streaming dynamic textures in real time. Shown for the first time at the 2008 Game Developers Conference (GDC), Substance is poised to redefine the development and distribution of rich content for the next generation of online and retail games. For more information please visit Allegorithmic during GDC 2008 in the North Hall, booth #6533.

"Substance addresses a tremendous need in the games industry and is the culmination of more than two years R&D time at Allegorithmic," said Dr. Sebastien Deguy, the company's president and founder. "For the first time, developers and players have a powerful solution that is so fast it allows for continuous texture streaming during the execution of a game. With Substance, game play will no longer be restricted by bandwidth or memory allocation issues, enabling developers and players to experience higher resolution textures, more dynamic content and richer environments."

"Substance brings us a clear technological edge," said Gregory Garcia, lead graphics engineer at Ubisoft. "Procedural generation of textures allows us to consider new asynchronous loading strategies in order to obtain much bigger worlds. Moreover, Substance will allow us to create richer and more diversified content as well as spectacular graphical effects with controlled production costs."
Page: [ 2 ]
[

Views

: 3,715 | Refers: 0 | Prints: 338 | Rate: 0.00 / 0 Votes | Posts: 0]
Autodesk Launches Two Versions of 3Ds Max 2009
February 17, 2008 - 13:17

At its annual World Press Days event, Autodesk, Inc. announced two new versions of its Autodesk 3ds Max modeling, animation and rendering software -- the leading asset ...
Dvgarage Announces Conduit Suite
March 13, 2008 - 23:07

dvGarage, a provider of tools and training for media artists, announced Conduit Suite, the latest update to its line of Conduit nodal compositing tools. Introduced through ...
Trailer of the New Pixar Production Walle
March 15, 2008 - 17:22

What if mankind had to leave Earth, and somebody forgot to turn the last robot off? Academy Award-winning writer-director Andrew Stanton ("Finding Nemo") and the inventive ...
Ilm Involved in the Visual Effects of Iron Man
March 16, 2008 - 17:04

Industrial Light & Magic (ILM) announced that it had come on board as the principle visual effects house on the new Marvel Studios production of Iron Man. Sister company ...