Front Page
Search
Popular
Off-Site
Free Content
My Visit
| | | | |
| --- | --- | --- | --- |
| Miscellaneous | | | |
Four Minutes Trailer for Terminator Salvation
In Theaters on May 21st 2009
| | |
| --- | --- |
| | 3Dup.com - May 14, 2009 - 22:07 |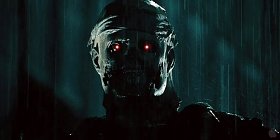 Set in post-apocalyptic 2018, John Connor is the man fated to lead the human resistance against Skynet and its army of Terminators. But the future Connor was raised to believe in is altered in part by the appearance of Marcus Wright, a stranger whose last memory is of being on death row. Connor must decide whether Marcus has been sent from the future, or rescued from the past. As Skynet prepares its final onslaught, Connor and Marcus both embark on an odyssey that takes them into the heart of Skynet's operations, where they uncover the terrible secret behind the possible annihilation of mankind.
More Information at
www.terminatorsalvation.com
. Image and Video Courtesy of Warner Bros. Pictures.
[

Views

: 1,847 | Refers: 0 | Prints: 182 | Rate: 0.00 / 0 Votes | Posts: 0]
Updated: Transformers: Revenge of The Fallen
May 10, 2009 - 03:08

The battle for Earth has ended but the battle for the universe has just begun. After returning to Cybertron, Starscream assumes command of the Decepticons, and has decided to ...
Action Film: G.I. Joe Rise of Cobra
May 06, 2009 - 22:57

Paramount Pictures and Hasbro, whose previous collaboration was the worldwide blockbuster "Transformers," join forces with Spyglass Entertainment for another extraordinary ...