Front Page
Search
Popular
Off-Site
Free Content
My Visit
| | | | |
| --- | --- | --- | --- |
| Miscellaneous | | | |
Updated: Transformers: Revenge of The Fallen
Movie to be Released on June 19th
| | |
| --- | --- |
| | 3Dup.com - May 10, 2009 - 03:08 |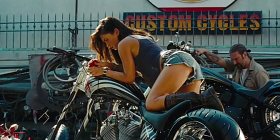 The battle for Earth has ended but the battle for the universe has just begun. After returning to Cybertron, Starscream assumes command of the Decepticons, and has decided to return to Earth with force. The Autobots believing that peace was possible finds out that Megatron's dead body has been stolen from the US Military by Skorpinox and revives him using his own spark. Now Megatron is back seeking revenge and with Starscream and more Decepticon reinforcements on the way, the Autobots with reinforcements of their own, may have more to deal with then meets the eye.
More Information at:
www.transformersmovie.com
. Image and Video Courtesy of Paramount Pictures and DreamWorks.

[

Views

: 5,890 | Refers: 1 | Prints: 368 | Rate: 9.00 / 1 Vote | Posts: 0]
Action Film: G.I. Joe Rise of Cobra
May 06, 2009 - 22:57

Paramount Pictures and Hasbro, whose previous collaboration was the worldwide blockbuster "Transformers," join forces with Spyglass Entertainment for another extraordinary ...
District 9: New Movie Produced by Peter Jackson
May 05, 2009 - 23:42

Not a lot is known about District 9's plot, save that it is about aliens landing in Africa and becoming slaves forced to work for a giant evil corporation. According to the ...
Four Minutes Trailer for Terminator Salvation
May 14, 2009 - 22:07

Set in post-apocalyptic 2018, John Connor is the man fated to lead the human resistance against Skynet and its army of Terminators. But the future Connor was raised to ...